Director: Drake Doremus           Writers: Drake Doremus, Ben Yorke Jones
Cast: Guy Pearce, Felicity Jones, Kyle MacLachlan, Amy Ryan, Ben Shenkman
98mins   US Drama
Much like his preceding feature Like Crazy, director Drake Doremus returns with yet another well-executed romantic drama featuring a young English girl finding love in the States. However where Breathe In differs, in that it focuses in on a more sophisticated and civilised coming together of two lost souls, rather than an idealistic, naïve first love between mere youngsters. It plays out almost as a reflection of Doremus's natural progression as a filmmaker in what is a richer and more refined piece of filmmaking than his previous endeavour.
Felicity Jones plays Sophie, a foreign exchange student hailing from England, who is stationed in an upstate New York home with her music teacher Keith (Guy Pearce), his wife (Amy Ryan) and teenage daughter Lauren (Mackenzie Davis). While the timid and somewhat precocious Sophie first catches Keith's eye with her exceptional piano playing ability, the pair soon develop feelings for each other in a potential romance that could break up this family dynamic and change the lives of those within it forever.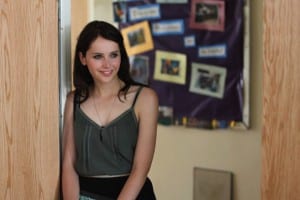 Once again Doremus has managed to draw incredibly naturalistic performances from his cast, whilst a maturing Jones is as alluring as always, further enhancing her reputation as one of the more beguiling screen presences in contemporary cinema. She brings a fragility that is sincere and endearing. Pearce also impresses, as one of few actors who is efficient at moving between genres effortlessly, adapting to a low-budget romance flick as he does to the science fiction blockbusters where he has made his name.
The realism is richly enhanced by the organically implemented score, where our characters' own musical performances dictate the tempo and atmosphere of the picture, and complements what plays out on screen. The musical vibe here is classical, and this is reflected in the contemplative ambiance that echoes the narrative. What starts as pensive, slowly gets more intense and dramatic, as in many classical pieces.
The build-up to Sophie and Keith's romance is subtle, yet we see more than enough to believe in it, and though not much actually occurs, it's the potential repercussions of what may happen that maintains the compelling edge. The theme of romance between a foreigner and a local is effectively portrayed, as it provides a loneliness to proceedings. Sophie is missing her family and friends and feels isolated and lost in another culture, which breeds a vulnerability to her. However it also works in reverse adding an intensity to the romance with a prevalent 'nothing to lose' aspect: often typical in a holiday romance that succeeds from its exhilarating spontaneity.
There is a determinable ending in sight however, and though the relationship is extremely realistic and has you drawn in completely, you hold little hope for its longevity, as a foreboding feeling sweeps over the entire picture. Though it would be intriguing to see Doremus tackle a different genre next and explore relatively new avenues, if he was to simply make another picture much like Breathe In and Like Crazy, it certainly wouldn't be the end of the world. STEFAN PAPE
BREATHE IN IS OUT ON DVD AND BLU-RAY ON 0CTOBER 7TH 2013