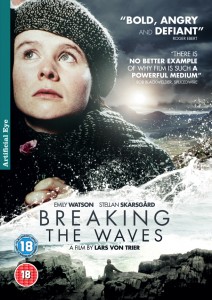 Director: Lars von Trier
Cast: Emily Watson, Katrin Cartlidge, Stellan Skarsgard
158min  Romantic Drama  Denmark
Breaking The Waves must surely be one of the art house films of the century. And although Lars von Trier's career has often proved controversial, his innovative visuals, ground-breaking ideas and ability to elicit remarkable performances from his world class acting talent certainly make him one of the all time greats in the history of indie film. In Breaking The Waves, his third feature, he uses an effective formula focusing on a vulnerable central character caught up in momentous events beyond her control. The lead was Emily Watson, who had never had such a great role since.
Set in a remote Scottish fishing port in the early seventies, Watson plays a gentle and vulnerable God-fearing girl, Bess McNeill, is married to Jan Nyman, a hard-bitten offshore oil rigger from Scandinavia. Their love for each other is as cerebral as it is sexual but when he is badly injured in an accident, their relationship is put to the test as she is forced to prove the real strength and depth of her love for him. In a career-defining performance (for which she won Best Actress), Watson evokes our empathy as the desperately smitten young wife driven to distraction as she tries to meet the increasingly extreme demands of Stellan Skarsgard's broken older man. Robby Muller 's disorientating wide-screen visuals and intense close-ups add to the feeling of low level hysteria as Bess digs deep into her spiritual beliefs to satisfy her man, giving her a martyr-like quality. Trier elevates her suffering to an art form in this poignantly observed and trenchantly agonising drama that manages to transcend melodrama, awarding Bess with a purity and innocence not seen since his fellow Dane, Dreyer directed Maria Falconetti in The Passion of Joan of Arc (1928).
A soundtrack of hits from the likes of Mott the Hoople and Deep Purple leavens matters placing the action truly in the seventies along with a plethora of built-up collars, sideburns and some legendary beards that provide a welcome break from your tears. MT.
OUT ON DVD/BLU-RAY FROM 10 NOVEMBER COURTESY OF CURZON ARTIFICIAL EYE