Writer/Director: Richard Linklater
Main Actors: Patricia Arquette, Ellar Coltrane, Ethan Hawke
165 mins Origin: US Drama
It has to be said, Boyhood is an unusual beast: a 165 minute, high-concept coming-of-age drama. Filmed in annual instalments over a twelve-year period, there was a serious danger that the concept could overpower the screen, and that the extended runtime could prove ill-fitting to director Richard Linklater's often loose-knit style. Thankfully, Linklater has managed to skilfully circumnavigate these pitfalls and create something which is not merely atypical, but truly extraordinary.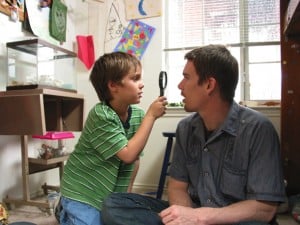 The runtime might seem dauntingly extended, but it allows for an expansive scope: the film may be called Boyhood, but it is so much more than a story of adolescence. Linklater marks the passing of time not through title-cards or voiceover, but through the changing styles of fashion, music and technology: it is not only the character of young Mason that grows, changes and matures, but the world itself. Linklater has said that he wanted the film to flow like memory, like snatches of a remembered past – this is life as a series of moments. At times, it feels like the swirling ruminations of Slacker and Waking Life have been grafted onto the teen drama of Dazed and Confused and then blended with the returning rise and fall of the Before trilogy. With its epic scope and prolonged gestation (during which time he made other eight features), it's possible to see the film as something of a summation of Linklater's work to date (and a fitting one at that).
As ever in a Linklater film, the performances shine. If the phrase is a cliché, it seems necessary never-the-less to say that Ellar Coltrane doesn't so much portray Mason, as inhabit him. Indeed, it's like the actor that grew from the young six-year-old performer was custom-built to play a Linklater protagonist, and one can't help but speculate on the influence (or should that be impact?) that growing up under Linklater's careful directorial gaze must have had. Meanwhile, Ethan Hawke (as Mason's Dad), reminds us what an enjoyment he is to watch – but it's Patricia Arquette (as Mason's Mum) that steals the show. As the film progresses, she weathers and ages, a woman beaten down by life, but one who finds the resilience to carry on. If Boyhood is about a child becoming a man, it is equally about a mother growing old and emptying her nest. It's perhaps no surprise that Boyhood ultimately becomes a film about parenting, given that Linklater's own daughter, Lorelei, plays Mason's sister in the film.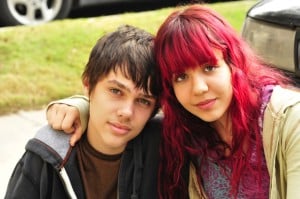 There's an air of quiet tragedy that rings throughout Arquette's storyline, and the film is by turns touching, tender and terrifying. But it's also funny throughout, and it ends on a note of hope which offsets the sadness and melancholy that we've felt along the way. Only time will tell if Boyhood ends up being regarded as one of Linklater's best – but for now I certainly feel safe declaring it to be one of his most heartfelt. Alex Barrett
SILVER BEAR WINNER 2014 (BERLINALE) Available on DVD|Blu
[youtube id="lY8hzy3cBf8″ width="600″ height="350″]