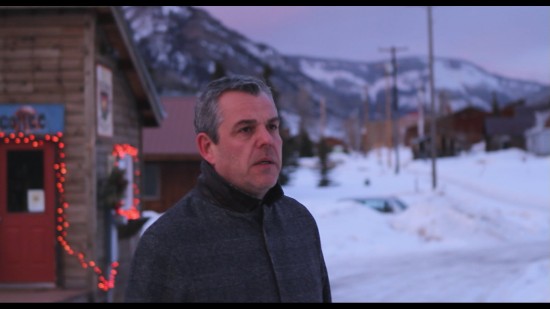 Director: Bernard Rose
Cast: Danny Huston, Matthew Jacobs, Lisa Enos, Jo Farkas
84mins     US
'Some roads aren't meant to be travelled alone'
Nothing will prepare you for the outcome of this cracking thriller, an ingenious modern take on Tolstoy's 1895 novella 'Master and Man'.  Set in a wintry Colorado on the day after Christmas, it has plenty of themes to kick around in the snow: family breakdown, the global housing crash and the folly of social convention are but afew.  Director Bernard Rose sticks closely to the original work with the script, the dialogue being largely an improvised affair of natural banter from the leads who are in real life close buddies.
Essentially a two-hander, it stars Bernard Rose's regular lead Danny Huston and newcomer Matthew Jacobs (who wrote the screenplay to Paper House), and completes the trilogy of his Tolstoy project along with The Kreuzer Sonata and Ivansxtc).
Huston gives a powerful performance as a debt-ridden property developer who sets out on a Boxing Day recky to make a killing in the holiday doldrums.  Matthew Jacobs is his klutzy hired chauffeur who is struggling with personal issues and the controls of his top of range Merc.
What starts as a road movie with comedy overtones soon becomes something surprisingly sinister.  These oddballs aren't likeable or laudable but Rose makes them believable: Basil is a condescending workaholic neglectful of his wife and family, Nick is a reformed alcoholic who's failed at driving and marriage, but who's nobody's fool in the long run. Their differing strengths and weaknesses are skillfully drawn and well played out in this shrewd and compelling adaptation. MT
BOXING DAY OPENS ON 21ST DECEMBER 2012 AT CURZON CINEMAS – CHECK OUR LISTINGS SECTION FOR EXACT TIMINGS.