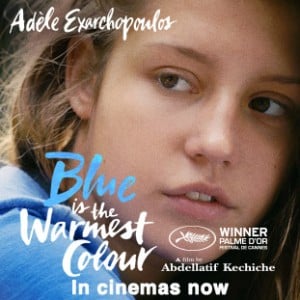 Directors: Abdellatif Kechiche
Writers: Ghalia Lacroix and Abdellatif Kechiche
Main Actors: Léa Seydoux, Adèle Exarchopoulos, Jérémie Laheurte
179 mins  French with English subtitles  France   Drama
On her way to meet her would-be boyfriend Thomas, Adèle passes a girl with bright blue hair in the street. The world seems to slow around her: Adèle is transfixed. In class, she has been discussing a passage in a book relating exactly to such fleeting glances, to love at first sight. Could this be what Adèle is experiencing? It certainly seems like it. It's one of the weaker moments in Abdellatif Kechiche's heart-breaking romantic drama, but it's also a defining moment for Adèle.
During lunch with Thomas, Adèle will question whether it's better to study books in class, or read them alone for pleasure. She likes to read, Thomas doesn't. But later, when Adèle reconnects with the blue-haired girl – Emma – in a gay bar, we learn that her knowledge doesn't extend to art. In fact, the only artist she knows is Picasso, in sharp contrast to Emma's expansive knowledge as a Fine Art student. Their meeting in the bar seems, perhaps, a little too coincidental – but Emma doesn't believe in chance, and maybe we shouldn't either.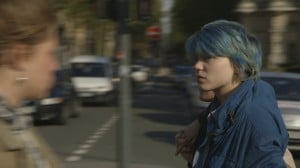 As a relationship begins to form between the two women, Adèle becomes uncomfortable around Emma's friends, feeling she is not their equal culturally. Adèle might know literature, but not art or philosophy, and Emma's knowledge in the latter area allows the girls a cover story: to Adèle's parents, Emma is a friend who is helping her learn philosophy. There is truth in this alibi. Emma is broadening Adèle's horizons: sexually, culturally and socially. Emma's values, and her sense of freedom (both as a lesbian and as an artist), come from Sartre, who has taught her that humans are defined by their actions.
Sartre's ideas, then, become the philosophical underpinning of a tale about the journey into womanhood, sexual awakening and the construction of human identities. Adèle's reaction to Emma's cultured friends mirrors her earlier conversations with Thomas, but with the tables turned. Culture and society form a part of who we are, who we become. As Adèle grows, becoming a woman, the film's protracted duration allows Kechiche to leisurely build a detailed portrait, both of her personal development and her relationship with Emma – which Kechiche portrays with warmth, humour, drama and sex.
Julie Maroh, author of the graphic novel on which the film is based, has condemned the explicit nature of the sex scenes, labelling them ridiculous and unconvincing – and there's certainly no denying that they are graphic and prolonged (their duration often seems excessive). At times, too, the camera lingers or pans over bodies in a gratuitous manner. When Emma teaches Adèle to enjoy the taste of shellfish, one can't help but wonder if it's all a cheap, sleazy metaphor.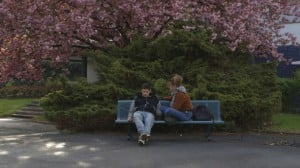 But, the sex scenes aside, the film is a convincing and moving exploration of romance. Kechiche's camera catches much of the action in close up and, if the visuals themselves at times seem rather unexceptional, the sterling work of lead actors Adèle Exarchopoulos (Adèle) and Léa Seydoux (Emma) more than makes up for it. The film's original French title translates literally as Life of Adele: Chapters 1 + 2, and the thought of seeing further parts would be extremely tantalising, were it not for the reports of the 'horrible' experiences that Kechiche put his actors through on set. In response, Kechiche has even said the film shouldn't be released, that it's 'too sullied' – but that's too far. The shoot may have been gruelling, but the results speak for themselves. Blue Is The Warmest Colour is a film that deserves to be seen. ALEX BARRETT
[youtube id="IDHv7XMyA1c" width="600″ height="350″]
NOW OUT ON DVD BLU COURTESY OF ARTIFICIAL EYE