Die:. Sophie Fiennes | UK/Ireland. 2017 | Musical Biopic | 115′
As fabulous now as when she was in 1979 – when I first experienced her at a concert in Italy's famous Covo di Nord Est – Grace Jones still rocks. At almost 70, her voice has mellowed, wavering occasionally, but her glamour and star power are just as potent and her aura and outrageous antics as just spectacular, if not more.
After an overture of Slave to the Rhythm where Grace performs in purple regalia and a golden sunburst mask, Fiennes cuts to an autograph session with fans fawning: "I've been waiting to see you for 25 years" – Grace responds "so has my mother". Suddenly we are following her through Jamaica airport for an exuberant reunion with her mother (who looks like Aretha Franklin), son Paolo and niece Chantel, and as night falls, the camera pictures a sultry moonlight gig in the torridly tropical island, drenched in lush emerald forests.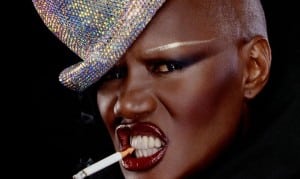 At at raucous and voluble family meal we get some backstory on the Jones and Williams troubled family backstory in a scene that culminates in a full-throated performance of Wicked and Williams' Blood as Grace struts around amid strobes – sporting nothing but a black leotard and a massive clotted cream moonshaped crown – by Irish hatter Philip Treacy – Fiennes tribute captures the warmth and ebullience of Jamaica and Grace's defiant irreverence.
Grace was once a Bond Girl – May Day – in A View To A Kill and also appeared in Conan The Destroyer, but here we witness the real Grace for the first time: The woman behind the act, and she's as feisty and strangely vulnerable as you would imagine. Champagne flows throughout as Grace moves constantly, making angry phone calls and negotiating in French – she lived in Paris for many years with French photographer Jean Paul Goude who styled her legendary look and shtick. Opening an oyster with difficulty she snarls: "wish my pussy was still this tight". Fiennes' punctuates the gutsy real time footage shot in her kitchen, car and dressing room – with Grace's mesmerising Dublin stage show, but both are beguiling and cinematic. Fiennes' shirks the traditional documentary format – there are no photos or archive footage, making Bloodlight And Bami fresh, feisty and intriguing for longtime fans who have never really experienced the woman 'behind the scenes'. It's also longer than most docs at nearly 2 hours.
La Vie en Rose is performed in a blossom pink setting – all softly sequinned and shimmery. Bloodlight And Bami – the film's title is Jamaican for the recording studio lighting. She's busy raising money for her next album, accompanied by her bass duo Sly and Robbie. Grace is no wallflower when it comes to things financial: she wants to be paid upfront for every concert, but will trawl through the old stalwarts just to raise money for her new work. You get the impression these old numbers bore her slightly, as she rants through Nipple to the Bottle, tottering gamely on amazingly amazonian legs. "Sometimes you have to be a high-flying bitch".
Jones hasn't forgotten the ghosts of the past: her abusive step-grandfather fuels the angry energy for her stage persona. Her parents lived away from Jamaica in New York during her childhood but she's now closer to her mother and goes with her to church back home.
Pull up to the Bumper is vigorously vampish. Her lyrics – like her lips and bone structure – are strong and powerfully stand the test of time. Grace is vulnerable, scary and exotic – a feminine volcano that smoulders and could erupt at any time. Fiercely feline she purrs more like a jaguar than a pussycat. Her following is eclectic and all-encompassing: middle-aged men; sophisticated women and the gay crowd, all attracted to her burlesque bravado and musical power.
In concert footage, Grace mesmerises with performances of Pull Up To The Bumper and more personal tracks including Williams' Blood, This Is and Hurricane. She is s force of nature, and certainly a force to be reckoned with. MT
NOW ON GENERAL RELEASE