Director: Steve Hoover
Script: Phinehas Hodges, Steve Hoover, Tyson VanSkiver
Producer: Danny Yourd
Cast: Rocky Braat, Steve Hoover
US                                   92mins                                   2012               Doc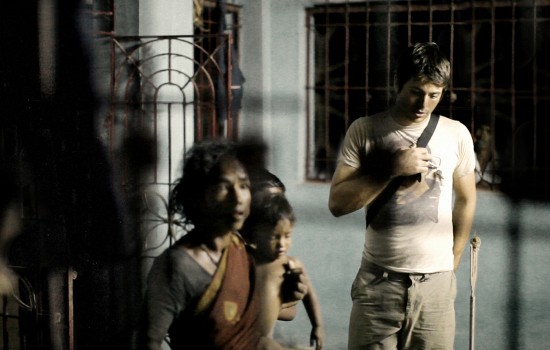 Disillusioned with his life, Rocky Braat stepped out of his mundane existence as a Graphic Design Grad and took himself off to India. He'd not had a happy upbringing, not knowing his father and with an abusive mother, he had been rescued at the age of three by his grandparents and college'd in Pittsburgh.
By his own reckoning, it was these circumstances that led to what happened next. Visiting Chennai, he stopped off at an AIDS orphanage, full of children deserted, for one reason or another by their parents, with AIDS and no one to look after them. Rocky was there primarily for selfish reasons. He figured he could empathise with their situation, have a good cathartic cry and then move on. He spent a month there and then continued on his planned trip, but within a couple of weeks he was heading back. He felt in his bones that he could make a real difference there, but at the same time sate his own need for love and affirmation.
Steve Hoover was his best friend at college. Unhappy with his friend's desertion and massive change in direction, he was at first, an unwilling witness. But, after three years, faced with a resolute Rocky, he eventually made the trip back to India with him and met the kids. It was to have as profound an effect on him as it had on his buddy. This film, Blood Brother, is the result of that trip.

Without reading any of the other reviews that must already have been written about this film- Winner of the Grand Jury Prize AND the Audience Award at Sundance, I'm guessing I won't be wrong in saying that all of the superlatives have already been used up. This is not only an excellent example of filmmaking, it also has that special factor of extraordinary content. A journey of self discovery, combatting fear, grasping a life opportunity, confronting issues, prejudices and ones own capabilities as to what is or isn't possible, but more than anything, grasping the nettle of life and being rewarded for it.
There will always be detractors to any Westerner going to the Third World and 'helping' and the PC brigade can -and will no doubt- say whatever they wish. But there is absolutely no doubt that Rocky is giving everything of himself to this endeavour and that it is making a profound and direct difference to these people's lives, as well as his own.
The film was financed using donations and everyone that worked on it did so for free, so every bean that the film goes on to make here on is being ploughed into Rocky's mission with the orphanage and another like it, threatened with closure.
It really is an incredible story. Most people, with or without the DNA for their adulthood that Rocky was dealt, would be doing far less with their lives. 99.99% of the population. To have turned what was potentially so negative into something So positive is a tremendously life-affirming story in itself. If you see no other film this year, see this one. Humbling, moving cinema at it's best. Please visit www.bloodbrotherfilm.com www.givethemlight.org AT
SUNDANCE LONDON FILM AND MUSIC FESTIVAL RUNS FROM 25-28 APRIL 2013 AT THE O2 ARENA, NORTH GREENWICH