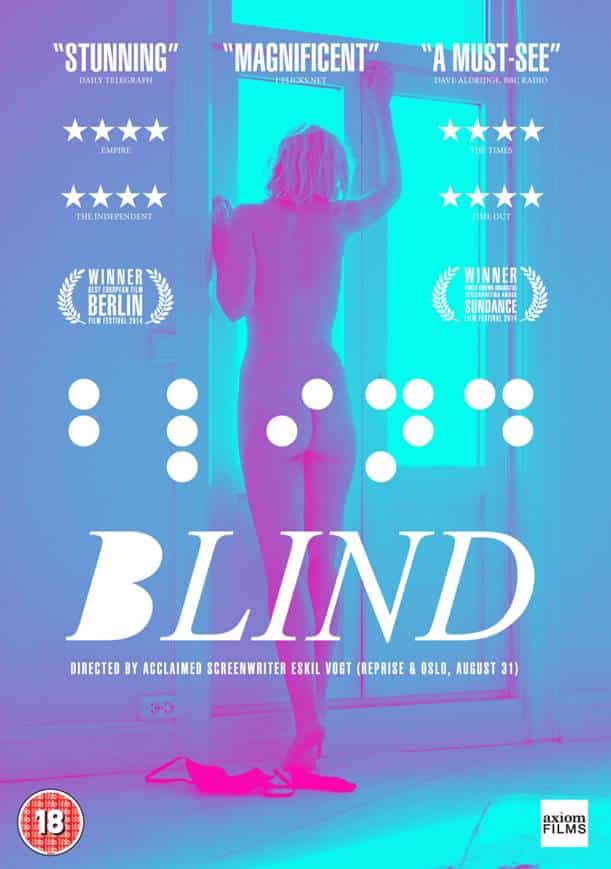 Dir|Writer.: Eskil Vogt
Cast: Ellen Dorrit Petersen, Henrik Rafaelsen, Vera Vitali, Marius Kolbenstevdt
Norway/Netherlands, 96 min.
After writing the scripts for Joachim Trier's Oslo, August 31st and Reprise, Eskil Vogt's debut film as a director, BLIND, is a stunning chamberpiece: a psychological cat and mouse game, truly original in its concept, and stunningly photographed by Greek DOP Thimios Bakatakis (Dogtooth, Attenberg).
Ingrid (Petersen), a woman in her thirties, has been blind for many years. She is losing her fight for independence, unable to leave her flat in Oslo, where she lives with her husband Morten (Rafaelsen), a successful architect, and finding the simplest of tasks, such as making tea, almost impossible. As soon as her husband leaves for work Ingrid imagines the world outside, constructing scenarios for her memories and imagination to wander through. One of these focuses on Einar, a former friend of Morten's from his student days and now a reclusive, overweight figure who is addicted to internet porn. In her imagination, Morten is unfaithful to her with the imaginary Elin (Vitali), a lonely, divorced mother of a young daughter whom he goes to bed with (also in Ingrid's imagination) and who soon suffers the same fate as Ingrid, when she starts losing her sight and also discovers she is pregnant from the one-night stand with Morten. This is in some ways a wish fulfilment on the part of Ingrid, who would like to have children. When Ingrid refuses to go to an office party, to celebrate Morten's achievements, she imagines the (now blind) Elin, attending and being mistaken for Ingrid, only to find Morten in the company of three hookers. From here on matters take an even more unexpected turn.
Ingrid's flat is a prison from which she tries to conjure up images with the help of a gadget, which is able to tell the colour of any object that it's pressed against. This way, Ingrid hopes to stem the complete death of her optical nerves, which would otherwise die completely if not stimulated by her, by remembering the sensation of sight caused by the familiar objects. But BLIND is by no means a horror movie, on the contrary, it is utterly realistic in the way it takes the power of electronic communication just a step further to feed Ingrid's imagination.
In a difficult role, Petersen's Ingrid emerges a strong figure, despite her perceived handicap of blindness. She is stunning, not only in her portrait of a blind person, but in her ability to somehow transcend reality, whilst making it seem utterly realistic despite also being part-fiction. Bakatakis repeats his staggering skills of his Greek films, making everyday life seem threatening and oddly deranged in this sightless world, mired in an insipid and antiseptic aesthetic. BLIND shows a micro-cosmos of a society, were everybody has, literally, lost touch with each other, relying on the internet. Perception and reality blend in a fantastic way. Screen images allow the characters to engage in a life that avoids engaging emotionally, and particularly when it comes to sex. This emotional blindness makes it possible for a woman without sight, isolated in her home, to infiltrate the minds of others, who have given up on any form committed relationship. BLIND is a unique experience, if a coldly alienating one, in demonstrating the power of the mind and of fiction. AS
NOW ON DVD from 22 June 2015 | COURTESY OF AXIOMFILMS.CO.UK