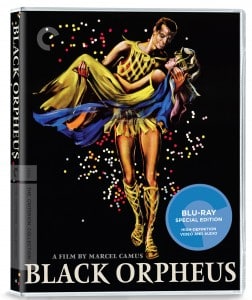 Dir.: Marcel Camus; Cast: Bruno Melo, Marpressa Dawn, Lea Garcia, Lourdes de Oliveira, Ademar Da Silva; Brazil/France/Italy 1959, 100 min.
Screening as part of the Black Lights retrospective comes this classic arthouse drama from Marcel Camus (1912-1982). Only his second film Black Orpheus is a stunning portrait of life and carnival in the favelas, Rio's most deprived areas. Bursting with colour, movement and emotional drama, Black Orpheus was a massive hit at Cannes where it unanimously won the Palme D'Or in 1959 and later the Oscar for best Foreign Film. While Camus was never able to equal this triumph it is still a ravishing treat.
A re-telling of the Greek myth, it follows the story of tram conductor Orfeo (played by the professional footballer Melo), a guitar-strumming neighbourhood hero who meets the shy Eurydice (Dawn) in Rio a day before the Carnival kicks off. On the same day, he gets engaged to Mira (De Oliveira), a feisty and jealous young woman. Eurydice has come from the country to visit Orfeu's neighbour, her cousin Serafina (Garcia) (Garcia) who is being stalked by Death (Da Silva), who wants to kill her.
Orfeo and Eurydice fall for each other, spending a night of passion before the onset of the carnival festivities. Mira is furious and starts chasing after her – but so does Death, who disarms Mira. Eurydice escapes to Orfeo's tram station where she hangs precariously from an electrical cable and is accidentally  electrocuted when her lover arrives. In the ensuing scuffle Orfeo is knocked out by Death (Ademar Da Silva) who claims the body of Eurydice. And when Orfeo comes to he heads of to the "Missing Persons' Office", a place which could have been dreamed up by Kafka. Then he fetches up in the symbolic underworld (complete with a frightening Cerberus), where an old woman speaks with the voice of Eurydice, begging the singer not to look at her. In vain, Orfeo goes on to the morgue, where he picks up Eurydice's body, and carries her into the favela. But Mira is still unhinged with anger, she hurls a rock at her unfaithful lover, sending them to their fate.
After working as assistant to Jacques Becker and Luis Bunuel, Camus' set his first film Mort en Fraude in Saigon with an anti-colonial tone. The film was banned in French Indochina – as it was then called – and Camus was accused of showing an over-romanticised view of the deprived favelas. But ORFEU NEGRO is true to magic realism, a vision: its pleasures evoked in brash and vivid colours (Eastman Colour) by DoP Jean Bourgoin (The Longest Day). In some ways, the tram scenes on the day the two lovers meet, echo those of Hitchcock's Vertigo: a passion found and lost in another place where trams roam the hilly city. Here love blossoms against the background of a an exotic landscape, alluring, warmed by sun and framed like classical painting (Camus taught art at university before becoming a filmmaker). But equally impressive are the scenes of impending doom, shot in sharp contrast to the feverish dancing and cajoling of the carnival itself: there is certainly a madness of abandonment, but the gloom lingers on. The chase scene is riddled with "haunting imagery" that later influenced the films of Mario Bava and Dario Argento, with their saturated colours. There are also embryonic elements of a modern Slasher film, the masked killer stalking his victims – John Carpenter in particularly springs to mind. The ending shows an ambiguous, timeless solution: a hint of mystery built on the legend itself, played out by three children in front of the rising sun – which would rise in response to Orfeo's beguiling music. AS
BLACK ORPHEUS | BLACK LIGHTS RETRO | LOCARNO FILM FESTIVAL 2019