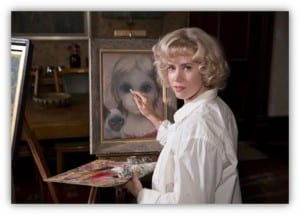 Director: Tim Burton
Writers: Scott Alexander and Larry Karaszewski,
Cast: Amy Adams, Christoph Waltz, Krysten Ritter, Danny Huston, Jason Schwartzman, Terence Stamp
105min  Biopic Drama   US
Tim Burton's latest film BIG EYES, is as weirdly kitsch as the paintings it features: they are the work of prolific artist Margaret Keane who enjoyed fenomenal success in the 1950s in California with her pictures of urchins with enormous, saucer–like eyes. Quite a departure from Burton's usual work and particularly his last project Frankenweenie (a re-hash of an earlier outing), BIG EYES is a biopic, a psychological thriller and a portrait of narcissism which delivers a universal message to its 21st century audience.
With his regular collaborators, screenwriters Scott Alexander and Larry Karaszewski, BIG EYES also has echoes of Ed Wood (1994), Burton's pic about a tortured artist. In California, we first meet Margaret Keane (Amy Adams), fleeing with her little daughter from the serene but sanitary housing estate outside San Francisco where she lives with her husband – who we never meet. Quite why she chooses to leave her marriage with no job or money in fifties America is never explained. Suffice to say, that Margaret lands on her feet and quite soon meets up with 'fellow' artist, Walter Keane (Christoph Waltz), a successful realtor and "Sunday painter" of Parisian street scenes. As is often the case, Keane is a better businessman than a painter and he soon cottons on to Margaret's value in the marketplace and decides to make her his wife, gradually taking credit for her work.
Margaret is a submissive woman who suffers from low self-esteem and is only happy to trust in her new husband's confidence and considerable business acumen. Amy Adams is perfectly-cast in the role of Margaret, a typical fifties housewife and shrinking violet. Resembling a modern-day Doris Day, her delicate features and retroussé nose are just right for this highly-stylised drama with its technicolour palette of rich pastels and the usual Burton touches of early sixties high kitsch (Mood Indigo springs to mind here).
For his part, Christophe Waltz is also right for the role: his slightly unctuously manic demeanour and genial smile belie his credentials as a fully- blown abusive narcissist, as the story unfolds. Controlling and egocentric, he has tremendous appeal providing when getting his own way. Once thwarted, he transforms into a vicious monster with a ego the size of the turquoise blue swimming pool in the couple's luxurious California villa. While Margaret slaves away at painting (the celebrated "Keane's") in a darkened studio, Walter is out there schmoozing and selling 'his' wares to the great and the good.
The reason to see BIG EYES is for its portrayal of female empowerment: woman artist finds the strength to confront her own demons in the male-orientated society of the sixties. Margaret must have had some 'balls' to walk out in the first place, but Burton never plummets the real character behind the facade so she remains largely a mysterious cypher as a character in a stylised construct. That said, BIG EYES also deals with contemporary issues of modern day fame and the abuse of power in a patriarchal society which, in the workplace and the boardroom, still exists today.
Burton's drama is far from subtle with most of the characters blurting out their opinions raucously as exponents of 'the male point of view' rather than these attributes being skilfully woven into the narrative and script; although there are some moments of dark humour. Terence Stamp plays a strident New York Times' art critic  and Jason Schwartzman a bigoted gallery-owner. Amy Adams gives a moving performance although there's little to enjoy in the dreadful paintings that are merely there to illustrate how easily money can be made for old rope. The main point here is that her joy at painting them was a therapy itself, proving that artistic endeavour can indeed save our souls. Danny Huston gets short shrift as Walter's journalist buddy, and only appears in a few scenes. He could equally have played Walter, but Waltz is the bigger actor and so naturally the box office would demand him in the lead. All in all, BIG EYES presents an intriguing look at American social history of the sixites showcasing the birth of the American dream in all its sad tawdriness. Perfect Christmas fare!. MT
ON GENERAL RELEASE FROM 26 December 2014