Director/Writers: Aharon Keshales and Navot Papushado
110min   Comedy Crime Thriller   Israel. Hebrew with subtitles
Cast: Guy Adler, Dvir Benedek, Lior Ashkenazi, Tzahi Grad, Doval'e Glickman, Rotem Keinan; Israel 2013, 110 min.
Aharon Keshales and Navot Papushado's violent thriller courts controversy with nearly all the characters involved, and one wonders if this was not the main raison-d'etre behind this film in the first place. The torture scenes are technically well-crafted and graphic, and would fit in with any horror/slasher movie. But even worse is the manipulation of the filmmakers: trying to make the viewer side with Dror against his vigilante captors, having created the narrative this way.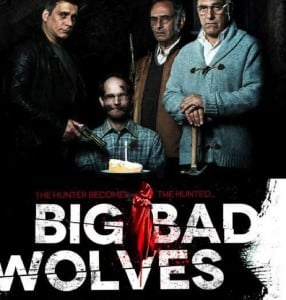 When a group of police officers are brutally interrogating a suspected serial child killer, they are filmed undercover. Miki, the leading officer is suspended. He starts trailing the suspect Dror, a teacher of religious education, who seems to be awkward, but harmless.  Miki wants to capture Dror and 'continue the interrogation', but Gidi, the father of the last victim, captures Dror first and takes him into a remote hut.  Miki is also captured by the grieving father, but the policeman agrees to help Gidi, to make Dror confess, and tell them, where he has hidden the heads of the girls he has killed.
Is there still a place for self-justice or torture, are the filmmakers overstepping the boundaries of moral responsibilities, in making this feature?Decide for yourselves. As a pure shocker the film may be excusable, but the moral implications are not.  Child killers will always excite vigilante action, but in a civilised state such actions should be condemned outright. Perhaps the permanent war situation in Israel has blurred the reaction to violence as a whole: A reason more to listen to the Peace movement inside the country. AS
BIG BAD WOLVES IS ON GENERAL RELEASE FROM 6 DECMEBER 2013