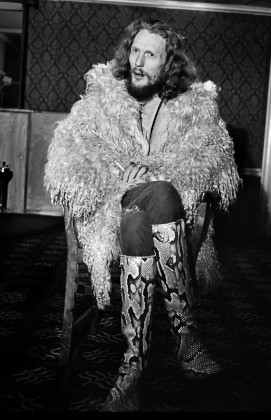 Director/Script: Jay Bulger
Cast: Andrew S Karsch, Fisher Stevens, Erik H Gordon,
92min    US/South Africa   Music Documentary
Beware of Mr. Baker begins with legendary Cream drummer extraordinaire Ginger Baker, violently and authentically  attacking our documentary maker Jay Bulger, leading us in to what appears to be a comedic tale of an angry and bitter old man who has lived a comprehensive rock and roll lifestyle to its fullest. However this opening scene actually marks the beginning of a somewhat tragic tale of a lonely man whose corruptive nature has seen him make many enemies, and lose many friends, across the course of his remarkable life.
Journalist-turned-filmmaker Bulger had the privilege of staying at Baker's South African residence, getting to know his subject through a series of candid interviews following a career that has seen him dip in and out of various projects from Cream to Blind Faith to collaborating with Fela Kuti, having aggressive fights with his band members, getting heavily addicted to heroin, marrying four times, and even taking up the sport polo. The key components in this fascinating life: the wives, the friends (and enemies), the abandoned children, are all interviewed too, as we paint a poignant picture of a somewhat unfulfilling livelihood.
To begin with, this feature seems to be heading down a Louis Theroux style of filmmaking, with the director consistently present. But such an approach doesn't last very long, and Bulger soon detaches himself, avoiding any self-indulgence in the process. His presence is important though, as through Bulger we learn how Baker communicates with people in the present day, which is essential in fully understanding him. Bulger admits to having never heard of Baker prior to taking on this project, and such an innocent form of ignorance is vital too as he enters into it with no personal attachment or preceding knowledge, making for an objective piece of cinema.
When you can see past the initial façade of Baker, we are left with a somewhat sad tale, and while our subject wears sunglasses throughout the course of the film, it's only at the very end when he removes them that you realise they had been covering up a great deal of sadness and regret. The more affecting moments derive from subtle moments within the movie and some expert editing such as when Baker declares Eric Clapton is the best friend he ever had, only for Clapton to distance himself, with great compassion, from the strenuous drummer. The brilliance of this piece is mostly thanks to the alluring figure that we are exploring. Baker has lived through so many hardships – most of which are as a result of his own wrongdoing. His self-destructive, callous nature leads to many incredible anecdotes, while his charisma ensures we always stay on his side, despite everything.
At times Baker can be guarded, and Bulger has to work hard to earn his respect, but fortunately the surrounding talking head interviews ensure we have people to fill in the gaps, candidly opening up to camera to make sure we are presented with the most authentic picture of this man's life. As such we truly feel that we are getting into his head, proving that we shouldn't be in need of a biopic anytime soon, as Bulger has immortalised this temperamental, hugely memorable figure on screen for good. That said, it is somewhat tempting to get one in the works, for the sole factor that Bill Nighy would be perfect casting for the lead role. SP
BEWARE OF MR. BAKER IS OUT ON DVD AND BLU RAY FROM 22ND JULY 2013 COURTESY OF CURZON FILM WORLD WWW.CURZONAE.COM