Katherine Hepburn was once asked what 'star quality' was and she replied: "I don't know but I've got it". This indefinable quality is the premise of Powell and Pressburger's timeless cinema classic THE RED SHOES (1948), which Sir Matthew Bourne, a fan of classic film, has riotously reimagined for his latest balletic blockbuster, at London's Sadler's Wells this holiday season. Bourne's ballet is also a tribute to the Hollywood composer Bernard Herrmann whose scores oozed star quality, enlivening the films of Orson Welles, Alfred Hitchcock, François Truffaut and Martin Scorsese, not to mention Ray Harryhausen and Brian De Palma.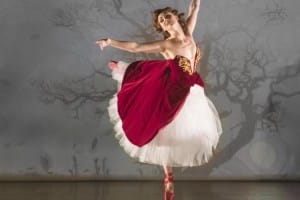 By replacing the film's original Oscar-winning score with Bernard Herrmann's music, ardent film fan Bourne intends to raise the profile of a Hollywood legend whose evergreen compositions possess the resonance and star quality that he feels, quite rightly, should be enjoyed by contemporary audiences in a theatrical setting with a live orchestra, not just in the cinema. Lez Brotherston's imaginative set has a revolving proscenium arch that transports us back to an early 20th-century ballet company, inspired by Diaghilev's Ballets Russes, and the production is saucily tweaked with Bourne's own brand of irreverent humour. Whisking us effortlessly from a glamorous Monte Beach in summer to the sordid sadness of the East End cabaret, this is a dizzying production that dazzles at every turn with a stunning central peformance from ballerina Ashley Shaw.
THE RED SHOES is a ballet within a ballet and Bourne has cleverly identified three key elements that make Herrmann's music so suitable: the backstage life of Boris Lermontov's dance company, the emotional awakening and torment of ballerina Victoria Page and the joie de vivre of the ballet itself.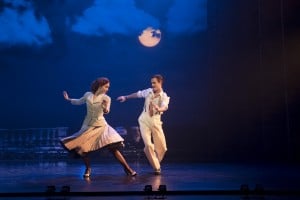 The Hollywood composer was born Max Herrmann to Jewish parents of Russian origin in New York City 1911. His musical career kicked off in his teens when he won a composition prize at the age of 13, founding the classical New Chamber Orchestra of New York when he was just 20 and studying at the Juilliard School. Herrmann was soon appointed chief conductor of the CBS Symphony Orchestra and his friendship with Orson Welles led to a collaboration with the auteur on the radio series The Orson Welles Show. When Welles joined RKO Herrmann joined him with scores for CITIZEN KANE (1940), THE MAGNIFICENT AMBERSONS  (1942) and Welles starrer JANE EYRE (1943).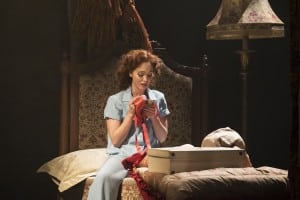 For THE RED SHOES ballet Bourne has concentrated on Herrmann's pre-Hitchcock fare and uncovered some real gems such as his Concerto Macabre from HANGOVER SQUARE (1945) along with the often unacknowledged dance music of CITIZEN KANE (1941) and the bittersweet beats of THE GHOST AND MRS MUIR (1947). But the ballet's dynamite centrepiece scenes, set against a dramatic background of birds, fleeting clouds and eerily silhouetted buildings are perhaps the most futuristic and inventive thanks to Herrmann's restless trembling music which features among others Truffaut's FAHRENHEIT 451, perfectly evoking the psychological tension between the love-torn trio of Boris Lermontov, Julian Craster and Victoria Page. Under Terry Davies the New Adventure orchestra makes great use of edgy expressionist electronic strings, the vibraphone and the glockenspiel as well as classic piano and wind to convey the sense of seduction combined with heart-stopping obsession and some cheeky interludes to lighten the tone. The heart-rending finale is quietly devastating as Ashley Shaw's elegant dancing complements the emotional resonance of Hermann's orchestral magnificence and his lighter danceable beats, making this a memorable and moving addition to Bourne's ballet bonanza. MT
THE RED SHOES IS AT SADLERS WELLS LONDON UNTIL 29 JANUARY 2017 | OTHER VENUES ON TOUR