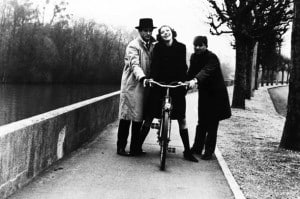 Cast: Anna Karina, Sami Frey, Claude Brasseur, Louisa Colpeyn | 95 min | Drama |  France
BANDE À PART, shot in 25 days and based on the pulp novel "Fool's Gold" by Dolores Hitchins, was project that Godard embarked on to support his marriage with Anna Karina. The pair hadn't worked together since Vivre sa vie. Godard called his production company "Anouchka", his pet name for Karina, and he gave the character she played Odile, after his late mother.
At an English language school in Paris, two petty swindlers, Franz (Frey) and Arthur (Brasseur) fall in love with Odile (Karina). Arthur lives with the enigmatic Madame Victoria (Colpeyn) in the suburbs, where a mostly absent Mr. Stolz has a huge amount of cash hidden in his cupboard. Franz and Arthur want nothing more than to bed with Odile – apart from stealing the money. Their clumsy plan backfires, they kill Madame Victoria, and while Franz and Odile escape to South America to start a new life, Arthur and his uncle kill each other in Madame Victoria's garden before the money, now hidden in a dog's kennel, is stolen by surprise.
Godard had run out of producers and had asked Columbia, Paramount and UA to give him 100.000 $ to make a picture. All questioned the high figure Godard was asking for and when he explained that this was for the whole production, only Columbia agreed to take him up on the project. Godard gave them a choice of three topics: the first about a woman leftie, the second about a writer and the final topic about the Hitchins crime novel: they obviously picked the latter. With such a small budget,, the studio did not even bother about a script.
The director's poetic voice-over re-tells the story from the emotional point of view of the three main protagonists, in a narrative full of quotations, references and in-jokes. But instead of being all-knowing, the voice-over soon loses the plot – the characters are coming into their own. It gives the impression that Godard was filming in perpetual motion. Everything and everybody moves in silence: in a scene at the 'Café Madison', there is no sound for a minute, followed by the now famous dance scene of the trio, a polonaise copied by many, amongst them Hal Hartley and Quentin Tarantino. The film is symbolised by the three of them racing through the Louvre. The images are rush by: money, pistols, death, Odile's stockings as masks, Shakespeare and always the leafless trees, set against a dark November sky. Raoul Coutard's images literally shot on the run, like he had done during the Indochina war.
Again, Godard was in opposition to everything – even though the film turned out to be very much a neo-classical in style: "This movie was made as a reaction against anything that wasn't done. It was almost pathological and systematic. A wide-angle lens is not normally used for close-ups? Then let's use it. A handheld camera isn't normally used for tracking shots? Then let's try it. It went along with my desire to show that nothing was off limits." For once, film and reality coincided: during the shooting, Karina and Godard got back together again, moving into a new apartment in the Latin Quarter, Karina admitting "It's true: the film saved my life. I had no more desire to live. I was doing very, very badly. This film saved my life".
Watching Bande À Part the for the first time in 1965, as first year students – we all admired the sequences when the actors read colportage stories from newspapers – we thought that it was vey cool. According to Raoul Coutard "there was no real script. Jean-Luc would show up with whatever he had written for the day. We've end up filming that. If he hadn't written anything, we would not have filmed anything." The newspaper stories, as it turned out, were just paddings, when the master had not written enough…. AS
SCREENING DURING THE GODARD SEASON AT THE BFI FROM JANUARY – MARCH 2016