Dir:  Gabriel Axel | Cast: Stéphane Audran, Bodil Kjer, Birgitte Federspiel, Jarl Kulle, Bibi Andersson | Denmark  Drama | 102mins
Based on Karen Blixen's 1950 short story, originally set in Norway, but here transposed to 19th Century Jutland by Franco-Danish director Gabriel Axel, the project initially struggled to launch. For 14 years, Danish producers proved somewhat recalcitrant. Babette's Feast finally received finance from the Danish Film Institute, a funding body actively encouraging independent productions. A remarkable tale in itself, when one considers the films enduring worldwide appeal, amply illustrated by wins including Cannes and BAFTA, topped off with a Best Foreign Film Oscar. But, notably, nothing in Denmark. Interesting.
Broadly then, a film about the relationship between spirituality and sensuality, translated here to the microcosm of a small, windswept coastal village, governed in totality by a stern Lutheran pastor and father to two beautiful women; the quintessence of stifled austerity.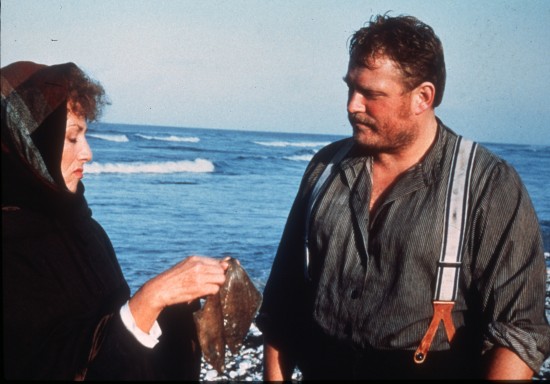 Upon the original release, Axel was interviewed by Sight & Sound and, when quizzed upon the finer details of the film, he responded: "I was asked recently if I was a believer, if I thought the Church has a role. All I can say is that in Babette's Feast, there's a minister, but it's not a film about religion. There's a General, but it's not a film about the army. There's a cook, but it's not a film about cooking. It's a fairy tale and if you try to over explain it, you destroy it".
It is so often evident, especially with period dramas, when it was made. A 1940s version of Sense and Sensibility is markedly different from one made in the 1970s, and all are watermarked indelibly with their decade; by the production and prevailing style of the day. But Axel's austere, minimalist, piece, set in a time and a place where there was little to get excited about- even if you well went out and looked for it- has aged tremendously well; the human, nuanced performances timeless depictions of… well, humans through the Ages. The responses and reactions feel real. Nothing is forced by plot. It all just unfolds naturally and unhurriedly, but so lucidly. It's basically the epitome of what you go to the movies for and now available on Bfiplayer from a new digital transfer. AT
NOW On BFI PLAYER