Director: Deborah Anderson
Cinematography: Christopher Gallo
With: Lisa Ann, Belladonna, Lexi Belle, Allie Haze, Ash Hollywood, Jesse Jane, Katsuni, Kayden Kross, Francesca Le, Brooklyn Lee, Asphyxia Noir, April O'Neil, Teagan Pressley, Misty Stone, Tanya Tate, Alexis Texas.
Documentary:  66 mins
"This is not a story about pornography.  This is a story about women". Deborah Anderson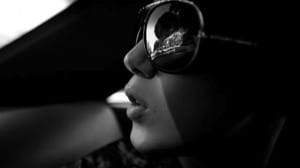 'Renowned celebrity photographer and multimedia artist' Deborah Anderson's debut doc about trying to find the 'you' behind the porn star' is visually alluring and elegantly shot in black and white, like her coffee-table book of same name.  Taking 16 of the world's most successful adult film stars, Anderson talks to them about their real feelings behind the sexy role they play on screen.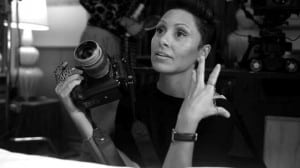 Getting ready for the shoot, these gorgeous and savvy women are so desperate to download their  experiences, at first this feels like a manic competitive story-sharing outing rather than a measured, reflective insight. To make matters worse, the guitar-strumming score is out of place and intrusive.  Audiences need episodes of calm to absorb quietly and reflect on the narrative that's unfolding.  Here we are bombarded by the sheer pace of the narration, music and talking making it unreachable and difficult to engage with at first.  Luckily things improve as the film gets underway and the nude modelling shoot is unveiled, as the girls drape themselves languorously on beds.
All from completely different backgrounds, what emerges predominantly is these women adore attention and are mostly rebellious or keen to seduce.  They have drifted into the business without a really being aware of their end-game.  That said, it's an extremely lucrative career move and one that offers financial freedom.  There's no real psychological insight gained from their discussions, making this sad charade evocative of sympathy rather than a feeling of empowerment or self-realisation on their part.  Rather like "Miss World"  contenders, they speak but make no real impression – all we focus on is their pouting lips, blow-dried hair, plump derrieres and erect nipples.  The images are 'female friendly' and provocative but not overtly sexual.  If Anderson wanted to gain some real insight, why not  talk to these women fully-clothed in the comfort of their own homes not sprawled naked in a boudoir setting?  Well the reasons are clear: Disengenuously dressing this up as a worthy outing, when it really feels more like an attempt to pass off some soft porn images as a seriously-intentioned doc.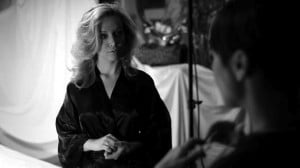 Intercut with wise quotations from the likes of Marlene Dietrich, Erica Jong and Joan of Arc, Anderson hopes to add gravitas to her premise.  There is a really only one valid interview with a woman (she tellingly gets no headline) – it's Fran Amidor, an agent who offers incisive comment and real insight into the 'adult' film industry: "Men want to jerk-off while looking at women of 18-25, not women who look like their wives, even if their wives are beautiful". So, a film intended to serve women – but actually dressed-up for men.
AROUSED is a great idea but a missed opportunity to explore in depth an important subject. MT
AROUSED IN OUT ON VOD FROM 13TH DECEMBER 2013