Dir: Francis Ford Coppola | Writers: Francis Ford Coppola, John Milius | 180′ US War Thriller |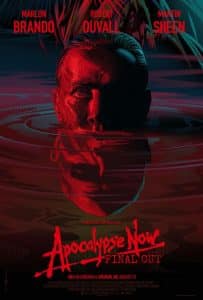 In celebration of its 40 year anniversary Apocalypse Now Final Cut, offers a chance to see the full 180 minute version for the first time ever. Coppola's spectacular cinematic masterpiece on the big screen and in a Blu-ray version.
Restored from the original negative, Apocalypse Now Final Cut is Coppola's most complete version of his multi-awarded classic – a haunting journey into madness that fascinated generations of movie lovers and now feels even more monumentally alive than ever before. Apocalypse Now was nominated for 8 Academy Awards® (including Best Picture) and won 2 Academy Award® for Best Cinematography and Best Sound, 2 BAFTAs for Best Direction and Best Supporting Actor and the Palme d'Or in Cannes.
The film follows Army Captain Willard (a restrained and resplendent Martin Sheen), a troubled man who nevertheless manages to keep his shit together when sent on a dangerous and mesmerising odyssey into Cambodia to assassinate Marlon Brando's maverick renegade American colonel Kurtz, who has fallen foul of the horrors of war and become a cultish leader in a remote outpost. The film speaks of the horrors of war and of human alienation, exploring the darker side of human nature and the depths to which every man and man can sink, in the worst of circumstances. Themes of  cult worship, despotism and survival of the fittest – both in mind and body – coalesce in a hypnotic experience that embraces sound and vision at its most inventive and mind-blowing, thanks to Enrico Storaro's spectacular visuals.
This is the first time the original negative has ever been scanned and over 11 months and 2,700 hours were spent on cleaning and restoring the film's 300,173 frames. Apocalypse Now Final Cut has been mixed in Dolby Atmos® to offer a truly immersive sound experience and it has been enhanced Meyer Sound Laboratories' newly developed Sensual Sound™, a technology engineered to output audio below the limits of human hearing.
In cinemas & IMAX only on August 13 | 4K Ultra HD & Blu-ray Edition – August 26 | August 13 screenings will include a filmed conversation with Francis Ford Coppola and Steven Soderbergh recorded at the premiere at The Tribeca Film Festival in April 2019.  Screenings will include a filmed conversation with Francis Ford Coppola and Steven Soderbergh recorded at the Tribeca premiere.
HOME ENT RELEASE | 26th August 2019 – a 4K Ultra HD and Blu-ray edition with 4 discs plus Steelbook editions (Exclusive to Zavvi) – featuring all three versions of the movie (The Final Cut, The Theatrical and The Redux), new artworks and exclusive bonus material.