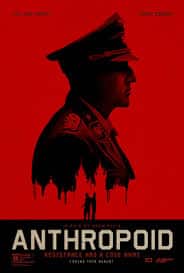 Writer\Director.: Sean Ellis
Cast: Jamie Dornan, Cillian Murphy, Charlotte Le Bon, Anna Geislerova, Toby Jones, Jiri Semek
120min | Czech Republic/France/UK, 120 min.
Three years after success with his multi-award winning thriller Metro Manila. Sean Ellis turns his focus back on Europe with an ambitious WWII thriller ANTHROPOID, based on the assassination of SS-Obergruppenführer Reinhard Heydrich, acting Reichs Protector of Bohemia and Moravia. His death has been planned by the Czechoslovak government-in-exile, and was carried out by two Czechoslovakian soldiers, trained by British SOE Forces in London, on May 27th 1942 in Prague and was a turning point in WWII. The event has been the subject of several feature films, notably the Czech production of The Assassination, and Operation Daybreak. HHhH (Himmler's Brain is called Heydrich), based on the novel by Laurent Binet, directed by Cedric Jiminez to be released later this year.
Heydrich, chief organiser of the Final solution at the Wannsee Conference in Berlin in January 1942, was soon to be ordered back to Berlin by Hitler, to be promoted to run all occupied countries, setting him up as The Führer's heir. Heydrich was by far the most intellectually competent member of the Nazi leadership, which he proved in his position in Prague, carrying out his reign with stick (nearly completely liquidating the Czech resistance movement), and carrot, paying the Czechoslovakian workforce decent wages to raise their productivity in the factories – unlike his compatriots, who literally starved to death the foreign workers in the countries under their control.
Sean Ellis acts as his own DoP, as well as writing, directing and producing and has chosen the name of the operation, Anthropoid, for his version of the campaign. A hand-held camera retains a gritty, indie feel to the piece which is shot in intimate close-ups and on the widescreen, offering magnificent vistas of Prague. The assassination endeavour was riddled by bad planning, hampering the progress at nearly every stage. When Jan Kubis (Dornan), Josef Gubcik (Murphy) and Karel Kurda (Semek) parachute into the Czech countryside, Jan and Josef are separated from Karel. The two are injured and have lost their equipment but soon have to deal with two traitors, before they even set out for Prague. There the underground agents, led by Jan Zelanka-Hajsky (Jones), are aghast at the proposal to kill Heydrich. They are aware that a successful attempt would bring revenge from the Germans – as it happened, over five thousand Czechoslovakian citizens lost their lives in the Germans reprisals, among the nearly the whole village of Lidice. But Kubis and Gubcik are adamant, and finally Zelanka gives in and supports the trio, Kurda having joined them after a visit to his family. Jan falls in love with Maria, Josef with Lenka (Geislerova). The women are very different: Maria emotional and full of histrionic outburst, trying to deny the danger they are in; Lenka, the daughter of an officer, has no illusions about the outcome as is calm and controlled.
The scenes in the countryside are feels like a noir-western: darkness prevails, the environment is as hostile as the human opponents. Prague is magnificent, full of twilight and foggy mystery; human relationships are fragile, but again, it never really gets light, shadows linger everywhere. The grandiose finale in the church is again a return to the western motive: the Alamo, were the brave outlast the enemy, superior only in numbers, for an eternity, before darkness falls. Performance-wise Cillian Murphy as Josef is the standout: strong and full of integrity while retaining his vulnerability in the scenes with Lenka. Toby Jones makes a believable and utterly sober, always reinventing himself as her with a fine portrait of Uncle Hajsky, and Hana Frejkova makes an appealing Mrs Lukesova, who shelters the pair while they plan their mission.  Ellis crafts his central characters carefully and appealingly in the early domestic-based scenes and we invest in them enough to care what happens at the denouement. ANTHROPOID is an exercise in resistance: the human spirit triumphs over all obstacles, as in Lang's Hangmen also Die, the tyrant is caught by fate as much as human struggle. AS/MT
OUT ON GENERAL RELEASE FROM 7 SEPTEMBER 2016