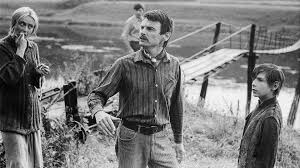 Dir: Andrey A Tarkovskiy | Russia Doc 97'
In his debut feature Andrey Tarkovskiy immediately trashes the theory that his father, the Soviet filmmaker Andrei (1932-1986) was some kind of intellectual mystic. Instead this well-organised biopic Andrei Tarkovsky: A Cinema Prayer paints a portrait of a mildly religious and loving family man who often felt misunderstood, especially by the critics ("as usual they didnt't understand anything")  but who was at pains to pass on his own father's ideas on Russian 19th century culture throughout the years of revolution (Arseniy Tarkovsky (1907-1989). Andrei emerges as a joyful, kind and deeply spiritual man whose 'screen poetry' was his creative attempt at praying. Although he never considered himself as a good filmmaker he is now regarded as a luminary, who would go on to influence cinema in the latter part of the 20th century and continues to do so today,
Instead of the usual talking heads A CINEMA PRAYER offers a more cinematic approach: family photos and recordings distilled from hours of his father's personal footage, and excerpts from his diaries relating to his wife and  Larisa Tarkovskaya along with his friends and the people he worked with.
Divided into chapters, the straightforward chronological narrative deals with each of his films; sharing thoughts and memorise; debunking popularly held theories and debating ideas under the headings: Childhood and youth; Work in cinema; Leaving Russia: (his time dealing with Western culture and working in Italy and subsequent conflict with Soviet authorities; and finally: The artist as a prophet, where he muses about his own faith and the meaning of life. The film does not attempts to analyse or even separate his films from each other claiming they were inter-related, and autobiographical at heart. And the director provides exact location shots for Mirror (a screen memoir of his close relationship with his mother, with poems by his father ); Stalker and Nostalghia.
Fascinating and moving, the film includes location shots of the family homes and places from where his films where made in Russia, France Italy and Sweden (where The Sacrifce was shot). MT
VENICE FILM FESTIVAL | 29 AUGUST – 7 SEPTEMBER 2019