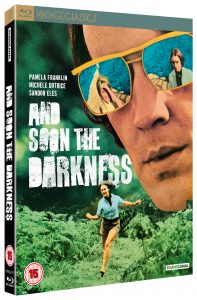 Dir: Robert Fuest | UK Thriller 99′
Directed by Robert Fuest (The Abominable Dr. Phebes, Wuthering Heights) AND SOON THE DARKNESS is an unsettling Claude Chabrol style thriller starring Pamela Franklin and Michelle Dotrice as young English nurses enjoying a cycling holiday in the French countryside. In a bar they come across a dark and seductive stranger (Paul/Sandor Eles) who is the catalyst for the two falling out and going their own separate ways. But Paul is not what he seems. A local woman then warns Jane (Franklin) to be careful and Cathy (Dotrice) finds a broken bicycle and some female underwear in the bushes. Desperately they try and find each other as the tone grows increasingly sinister with suspense generated largely by the film's atmospheric sound design, Laurie Johnson's clever score and Ian Wilson's vibrant camerawork (both are still alive). Based on an original story by Terry Nation and Barry Clemens who also co-wrote the script AND SOON THE DARKNESS cleverly confounds expectations and extracts the maximum amount of suspense, sustaining jeopardy and a sense of claustrophobia despite the story all taking place in wide open spaces in complete daylight. Unlike Chabrol, Fuest makes no real attempt to explore his characters, preferring to rely on atmosphere, score and clever editing to drive the narrative forward.
FRIGHT (1971) | 87′ | Dir: Peter Collinson (main picture)
Directed by Peter Collinson – best known for The Italian Job, Straight on Till Morning) – this original British slasher film from 1971 stars Honor Blackman (Goldfinger), Susan George (Straw Dogs), Ian Bannen (The Flight of the Phoenix), George Cole and Dennis Waterman (Minder)
Young babysitter Amanda (Susan George) arrives at the Lloyd residence (Honor Blackman and George Cole) to spend the evening looking after their young son. Soon after the Lloyds leave, a series of frightening occurrences in the gloomy old house have Amanda's nerves on edge. The real terror begins, however, when the child's biological father appears after recently escaping from a nearby mental institution. Pre-dating the release of Halloween by seven years, FRIGHT was the groundbreaker for the 'terrorised babysitter' variation of the 'home invasion' horror genre.
FRIGHT and AND SOON THE DARKNESS release on 14 October 2019 http://po.st/AndSoonTheDarkness and http://po.st/Fright