Dir.: Clint Eastwood
Cast: Bradley Cooper, Sienna Miller, Luke Grimes;
USA 2014, 132 min.
Clint Eastwood is no stranger to films portraying war, "Letters from Iwo Jima" and "Flags of our Fathers", were lauded justifiably as projects trying to show the ambivalence of armed combat. Unfortunately, AMERICAN SNIPER, the portrait of Chris Kyle (1974-2013), a marine with the exclusive S.E.A.L. unit who had 160 kills as a sniper during his four tours during the Iraq war, is a one dimensional, patriotic hagiography relying for nearly all of its 132 minutes on combat scenes. Eastwood gives very little room here to explore Kyle himself, or his relationship with his wife Taya.
Kyl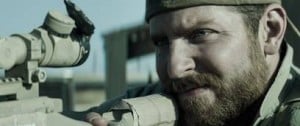 e (Cooper) grew up in Texas, his father introducing a rigid, homespun philosophy of dominance by way of God, Country, Family; enlarging the concept by dividing humankind into three categories of sheep, wolves and sheepdogs. After buying his son a rifle at the age of three, Kyle senior remarks that his son has a "gift" for shooting after Chris killed his first deer. On finishing school, Kyle worked as a professional bronco rider before being invalided out due to injury. After enlisting with the SEALS in 1999, he serves on four tours in the Iraq war where his skills as a sniper earn him the name "The Devil of Ramadi". The Iraqis put up a $ 80000 bounty on his head. Discharged in 2009, he published his autobiography "American Sniper" in 2012.
Kyle's relationship with his wife Taya (Miller) is relegated to mere footnotes by Eastwood; the family scenes with their two children are clumsy and full of clichés. Instead of commenting on America's passionate and deadly love affair with weapons – Kyle's "American Gun: A history of the US in Ten Firearms" was published posthumously in 2013. AMERICAN SNIPER is dominated by endless combat scenes. Kyle's comment to an army psychiatrist (another cardboard figure), when asked if he regrets any actions in the war is simple: "I only regret the people I did not save"; is one of many statements by Kyle, worthy of more exploration; after all he did lose his life in circumstances that question the overriding presence and use of weapons in American society.
Eastwood tried very hard to make Cooper into a second Kyle: the actor had to gain an enormous amount of weight and was coached to deliver the "Texan drawl", which is vey hard to comprehend outside the state of Texas. But the director is unable or unwilling to discuss any concepts oitside those of naïve patriotism, ending AMERICAN SNIPER with a vast array of American flags, draped all over Texas on the final 200 mile journey of Kyle's coffin to the Texas State Cemetery in Austin. AS
Out on general release from 16 January 2015