Director: Declan Lowney
Cast: Steve Coogan, Colm Meamey, Sean Pertwee, Anna Maxwell Martin, Felicity Montagu, Jason Tresswell
Writers: Armando Iannucci, Peter Baynham, Steve Coogan, Rob Gibbons, Neil Gibbons
90mins  Comedy UK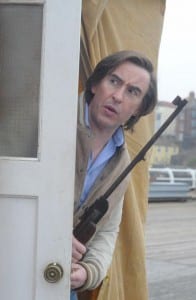 Steve Coogan's famous local radio DJ and talk show host Alan Partridge is one of the UK's favourite comedy characters and has now arrived on the big screen in this Summer's unmissable British comedy ALAN PARTRIDGE: ALPHA PAPA.
There are plenty of laughs to be had in this close-up and personal film debut of the saddo presenter at North Norfolk Radio. Awash with 'too much information' (he loses his trousers, quite literally!), it records every crack and crevice of Alan's cringeworthy physique and shamelessly pursues a politically incorrect agenda of witty one-liners skilfully crafted by co-writers Peter Baynham and Armando Iannucci ("Forget about Jesus, as far as I'm concerned, Neil Diamond is the real King of the Jews!.) and helmed by the safe hands of 'Father Ted' creator Declan Lowney.
Featuring the usual team of co-presenter Simon (Tim Key), Radio Norwich pal Dave Clifton (Phil Cornwell), long-suffering PA, Lynn (Felicity Montagu), ageing DJ, Pat Farrell (Colm Meamey) and his Geordie friend Michael (Simon Greenhall) now a security guard, this outing is sadly missing a love interest for Alan, more's the pity!.
After the unfortunate turn of events on his BBC show 'Knowing Me, Knowing You' where a guest accidentally gets shot, Alan's fighting for his career for the second time around when a multimedia conglomerate "Shape" takes over the station threatening a round of redundancies and putting his slot 'Mid-Morning Matters' into jeopardy.  The first head to roll is that of fellow presenter and 'has-been' Pat Farrell. But Pat's having none of it and returns with a gun, fully-loaded and firing on all cylinders to plunge the station into full siege mode, forcing Michael into a cupboard ('Like a Geordie version of Ann Frank') and Alan into the limelight acting as a mediator between Pat and the Police.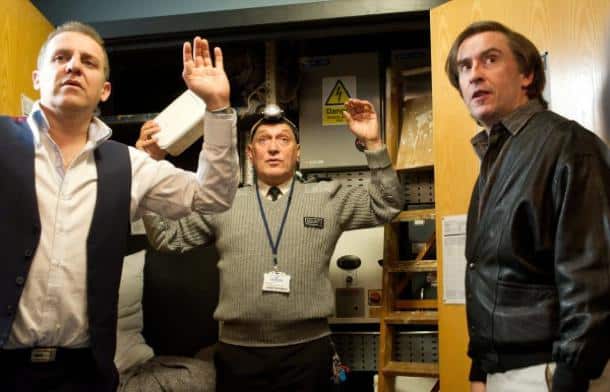 Naturally Alan relishes this chance to take centre stage in a media circus of heightened melodrama, but the emphasis here shifts onto fast-paced action and slapstick sequences descending into banality at times, and away from the element we've all been waiting for: the next chapter of Alan's life as a delusional porn-obsessed loser whose children no longer speak to him, whose PA's preoccupation with him is unwanted and unwholesome and whose 'mildly cretinous' Ukrainian girlfriend 'Sonja' has him firmly by the short and curlies.
That said, this big screen debut offers great entertainment value, preserving the integrity of the 'Alan Partridge brand' where so many others such as League of Gentlemen, Borat and Brüno are a shadow of their TV and radio versions. Alan may have lost his trousers but Alpha Papa definitely has us wanting more. MT
  DVD / Blu-ray / Steelbook Extras:
  Hectic Danger Days: The Making of Alpha Papa
  Deleted Scenes
  Bloopers
  Audio Commentary with Steve Coogan and Writers Rob & Neil Gibbons
  ASDA 2-Disc Bonus Extras:
  Exclusive Interviews with Steve Coogan / Rob & Neil Gibbons / Declan Lowney
  Exclusive Q&A with Armando Iannucci
  Premiere Day Sizzle Reel
  Irish Screening Introduction
  Trailers – Teaser and Full
  TV Spots