GLEANING TRUTHS: AGNÈS VARDA is a UK wide touring programme from Friday 3 August in Curzon Soho. Comprising eight films and spanning six decades, the season celebrates Agnès Varda's work in the build-up to the release of Oscar nominated Faces Places on the 21 September. The tour follows on from the extensive BFI Southbank season in June and takes the work of this pioneering filmmaker to audiences across the UK. 
The touring programme is launching on Thursday 2nd August with a 35mm screening of Cléo from 5 to 7pm at the Curzon Soho, plus panel discussion on Film, Fashion, and the Female Gaze. The panel will be hosted by The Bechdel Test Fest, an on-going celebration of films that pass the Bechdel Test.
La Pointe Courte 
France 1955. Dir Agnès Varda. With Philippe Noiret, Silvia Monfort. 80min. Digital. EST. PG 
Agnès Varda's first feature, a precursor to the French New Wave, signals her future stylistic and thematic interests. Set in a working-class fishing village, the story moves between the daily struggles of the villagers and a young married couple from the city contemplating their failing marriage. With stunning cinematography, this striking debut demonstrates Varda's exquisite sensibility as a photographer. 
Cléo from 5 to 7 Cléo de 5 à 7
France-Italy 1962. Dir Agnès Varda. With Corinne Marchand, Antoine Bourseiller, Dominique Davray. 90min. Digital. EST. PG
In pop singer Cléo, Varda created an iconic female protagonist. Wandering the streets of Paris, Cléo goes on a journey of self-discovery as she awaits the results of an important medical test. Moving and lyrical, Cléo from 5 to 7 is Varda's breakthrough feature and a French New Wave classic, best enjoyed on the big screen.
Le Bonheur 
France 1964. Dir Agnès Varda. With Jean-Claude Drouot, Claire Drouot, Marie-France Boyer. 80min. Digital. EST. 15 Thérèse and François lead a seemingly pleasant married life, until he begins an affair with another woman, supposedly to enhance their mutual enjoyment. In her first colour feature, Varda becomes not only an observer of human behaviour and a commentator on the sexual revolution of the 1960s, but also a painter, utilising her palette on screen to enhance the story to great effect.
One Sings, the Other Doesn't 
France-Venzuela-Belgium 1977. Dir Agnès Varda. With Thérèse Liotard, Valérie Mairesse, Robert Dadiès. 120min. Digital. EST. 12A
Set against the backdrop of the women's liberation movement, the film charts the friendship between two women over the course of 15 years. Suzanne and Pauline lead very different lives, but what unifies them is their commitment to women's rights. A deeply personal film for Varda, it combines elements of a musical (with lyrics written by the director herself) with Varda's usual blend of fiction and documentary.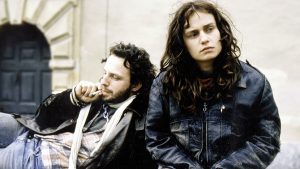 Vagabond 
France 1985. Dir Agnès Varda. With Sandrine Bonnaire, Macha Méril, Yolande Moreau. 106min. Digital. EST. 15. A Curzon Artificial Eye release
A powerful and heartbreaking account of a defiant and free-spirited woman. Winner of the Golden Lion at the Venice Film Festival, Vagabond is a cinematic landmark that introduced one of the most intriguing, complex and uncompromising female protagonists in modern cinema. Sandrine Bonnaire, who debuted in Maurice Pialat's À nos amours, gives a remarkable performance as the independent and rebellious Mona, who drifts through the South of France. The first scene shows Mona's death, and so Agnès Varda tells her story through Mona's interactions with the cross-section of French society she met in the last few weeks of her life. These encounters reveal people's preconceptions around women's place in society, personal freedoms within social structures, and the value of work – issues that still resonate more than 30 years after the film's release.
Jacquot de Nantes 
France 1991. Dir Agnès Varda. With Philippe Maron, Edouard Joubeaud, Laurent Monnier. 120min. Digital. EST. PG 
This is Varda's first film celebrating her late husband, French filmmaker Jacques Demy. With her signature style of mixing fiction with documentary, Varda beautifully reconstructs Demy's adolescence and his love of theatre and cinema, using his memoirs as reference. Initiated during Demy's last year of life and released after his death, Jacquot de Nantes is a touching portrait of a talented filmmaker-in-the-making. 
The Gleaners & I 
France 2000. Dir Agnès Varda. 82min. Digital. EST. U
Armed with a digital camera, Varda travels through the French countryside and Parisian streets to celebrate those who find use in discarded objects. Throughout, she finds affinity as a gleaner of images, emotions and stories, and expands a poetic exploration of gleaning into an innovative self-portrait. This seminal work, referred to by Varda as a 'wandering- road ocumentary,' explores her creative process and approach to making film and art.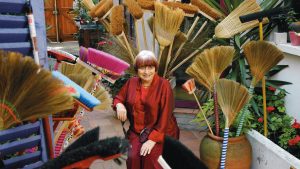 The Beaches of Agnès 
France 2008. Dir Agnès Varda. 110min. Digital. EST. 18
A cinematic memoir of Varda's personal and artistic life, told by the director herself on the eve of her 80th birthday. In a witty and original way, Varda weaves archive footage, reconstructions and film excerpts with present-day scenes to chart her life, including childhood, the French New Wave period, and her marriage to Jacques Demy. Inventive, emotional and reflective, this autobiographical essay celebrates Varda's artistic creativity and curiosity about life.
SCREENING AT CURZON LONDON 3-5 AUGUST 2018 LONDON