Director: Jill Soloway
Cast: Kathryn Hahn, Juno Temple, Josh Radnor, Jane Lynch
USA  99min   Comedy Drama
Very much prescribed viewing for any affluent and intelligent women who give up work to focus on kids, Jill Soloway's whip-smart feature debut is fearless and refreshingly frank in its expose of what can happen to those that hunger for interest outside the normal routine of family life.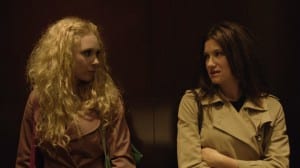 This is Silverlake, an upmarket suburb of LA where creative and vivacious Rachel (Hahn) and successful husband Jeff (Josh Radnor) live in modernist, low-key charm.  Very much part of the local Jewish community of fund-raising wives and workaholic partners, Rachel confesses to her unprofessional analyst (Jane Lynch) "I know I shouldn't complain, there are women going to fetch water in Darfour and getting raped". She's witty, urbane and full of compassion with a loveable tot called Logan.
And it's very much Kathryn Hahn's film and her first real chance to dip her toe in a full dramatic lead which she handles with considerable complexity bringing humour and likeability to a woman who, on the face of it, is spoit and bored.  Faced with Jeff's disinterest in their sex life and a dwindling libido, she decides to spice things up with a visit to the local lap-dancing club on the advice of her close friend Stephanie (Jessica St Clair) who claims it works wonders for her own relationship with husband Bo (Keegan Michael Kee).
Here she bonds with McKenna (Juno Temple), a local sex worker who manages a appealing mix of honesty and coquettish charm, very similar to that of her previous roles.  Juno's vulnerability brings out the protective side in Rachel and she invites her to be their live-in childminder. Josh Radnor as Jeff, accepts grudgingly, settling for his stock boho Jewish guy with with tousled sex appeal, much like those of Liberal Arts and How I Met Your Mother.
The dialogue is so engaging and spot on you hardly notice a gradual shift in tone from comedy to serious drama as the social dynamic gradually turns dark during an evening with friends.  with coruscating consequences all round. But all is not lost. AFTERNOON DELIGHT may have its detractors but for those who buy into its inventive and edgy appeal and Hahn's authentic portrayal of female disillusionment, the rewards are plenty. MT
ON DVD MAY 4th 2014