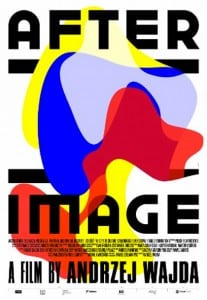 Dir.: Andrzej Wajda | Cast: Boguslaw Linda, Zofia Wichlacz, Bronislawa Zamachowska, Aleksandra Justa | Poland | 98 min.
Andrzej Wajda's final film, an unsentimental bio-pic covering the last years of the avant-garde painter Wladyslaw Strzeminski (1893-1952), is the opposite of a melancholic swansong: AFTERIMAGE is a vicious attack on Stalinist repression and censorship, filmed by a man still young at heart, who never gave up the fight against an inhuman dictatorship regime which perverted the idea of equality.
Despite losing a leg and an arm in active service during WWI, Strzemisnki (a magnificent turn by Linda) led a vibrant life, shown in the opening sequence, when he rolls down a grassy hill with his students of the State Higher School of Arts in Lodz, which he had founded in 1945. A popular lecturer, all his students stood by him when he was dismissed from his post in 1950 for refusing to submit to the doctrine of Socialist Realism. One of his students, Hania (Wichlacz), eventually fell in love with him, but was rebuffed by the artist, because he knew he was dying of tuberculosis. But there was still time for a family drama: Strzeminski had left his wife, the famous sculptor Katarzyna Kobro (Justa), whom he had married in 1920, and who lived with their young daughter Nika (Zamachowska – in a case of life copying art, Justa's Kobra is Zamachowska's real life mother). Despite the family's creative talents, resources were tight. Zamachowska has an other-worldly screen presence: she stands out as a fearless and self-possessed child. particularly in the scene where she walks alone behind the coffin in her broken down shoes and only coat (which she turns inside out after chastisement from a passer-by for its bright colour). After Kobra's death, Nika moves in with her father and tenderly cares for his needs while lecturing him to eat more and smoke less. But when Hania appears on the scene, on the crafty pretext of recording "The Theory of Vision" on a typewriter stolen from the Art School, Nika makes no bones about moving into the local childrens' home, where at least she gets a free uniform and new footwear.
The bureaucratic authorities gave Strzeminski a final warning after he damaged a street banner bearing a picture of Stalin, because it cut out the natural from his studio window. It counted for nothing that the painter was the co-founder of the world-famous BLOK group in 1924, a loose association of Cubists, Constructivists and Suprematists, including Malevich (whose students Kobra and Strzeminski had been), as well as El Lissitzky. After Strzemisnki's dismissal from the Higher Art School, two events followed: firstly, his students' exhibition was destroyed by hooligans hired by the State Authorities; then came the enforced closure of the Neoplastic Room in the Museum in Lodz, which Strzemisnki had opened in 1948 (and included five Spatial Compositions by Kobro, who nevertheless was not invite to the opening). Further humiliation followed: he was thrown out of the Artists Union, barring him from buying any more painting materials. Since food was only obtainable on ration cards for the employed, his status as unemployed meant that he was reduced to starving. Although his students tried to find odd jobs for him, Hania even getting arrested,  Strzeminski's body eventually gave up just after Christmas 1952. Whilst Wajda concentrates on the last years of Strzeminski's life, there is certainly another story to be told: daughter Nika has published a memoir of her parents "Love, Art and Hatred" in 1991.
César-winning (The Pianist) DoP Pawel Edelman's resplendent visual style records the hardship of the post-war years, and the bitter hounding of a great artist by a posse of petit-bourgeois functionaries, who hide behind their orders from above. The Stalinist regime robs everything from Strzemisnki: even his love for the cinema, which he leaves with his daughter, after having to watch an infuriating propaganda newsreel. An Afterimage is the visual impression that remains on the retina after viewing an image: what will be remembered from Andrzej Wajda's work is not the narratives that cleverly navigate through Stalinist restrictions and bans, but the memory of his fight to record the truth behind the events in over fifty films that he made from the 1950s onwards. In AFTERIMAGE Wajda drives his last spear into the heart of the Stalinist monster. AS
SCREENING DURING KINOTEKA POLISH FILM FESTIVAL | 17 MARCH TO 5 APRIL 2017