Dir: Roy Andersson | Drama, Sweden 78′
A man and a woman are carried aloft in floating clouds like some Swedish version of Marc Chagall's couple. This is the opening image in About Endlessness the putative final drama from Swedish auteur Roy Andersson.
The next sequence shows an older couple surveying the painterly panorama of modern Stockholm for a quiet hillside bench above the city. Meditative and calming, like a warm afternoon in Autumn, the scene is also strangely comforting: "it's September already" the woman says laconically.
Essentially a series of short visual poems – in Andersson's own words – his idiosyncratic films view the lives of ordinary people through a deadpan lens in these delicately sober vignettes. All constructed as painted tableaux in his Studio 24 in Stockholm they form a painted backcloth for the characters to enact their mournful roles to camera. The locations are sometimes identifiable: a Stockholm street (as in the opening scene); a dental surgery, or even the vestry as the vicar prepares for a service of communion. Later we will see a couple drifting above a ruined townscape: it could be Dresden – the devastation is so widespread –  but nothing is clear.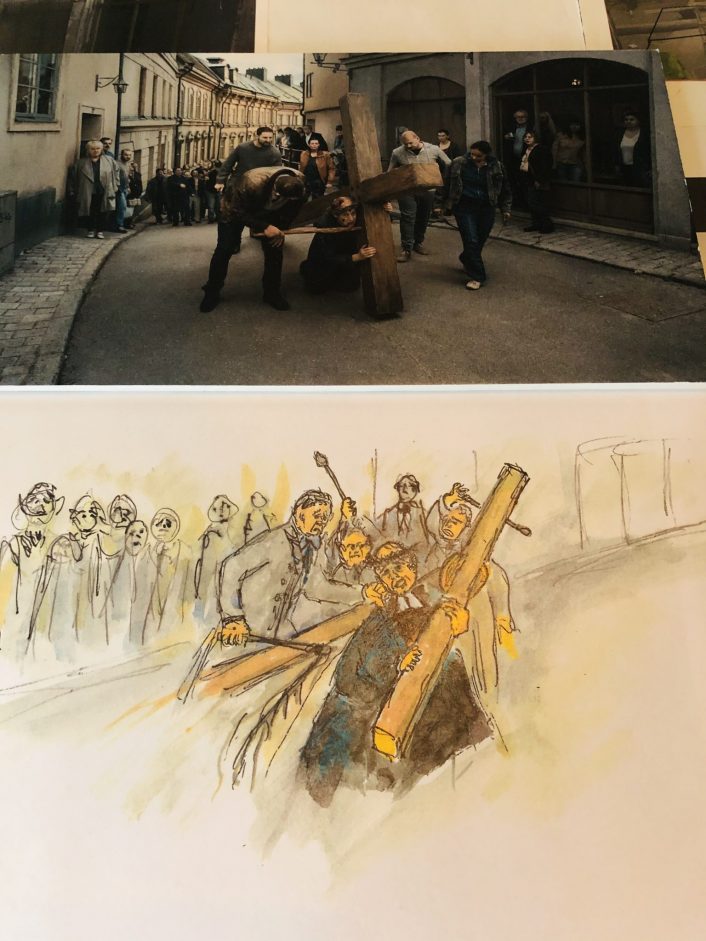 Andersson is possibly best known for his 'Living Trilogy' – Songs from the Second Floor (2000), You, the Living (2007) and A Pigeon Sat on a Branch Contemplating Existence (2014). His films are auto-biographical, shaped by his own character traits of vulnerability, insecurity and a general sympathy for the underdog. These characters are bland and pasty-faced, often overweight or gaunt, verging on hysteria or in abject misery but sometimes just inquiring. The immaculate backdrops are claustrophobic and 'griege' in colour and design, although some are delicately rendered to recreate cityscapes or empty streets. Swedish history also intervenes as soldiers populate the frame, echoing its military power during the 17th century.
This time Andersson is more sorrowful, more meaningful, his tragi-comedy more poignant, raising only a knowing smile before fading to black. The poems mostly start with a woman's voiceover saying: "I saw a man having trouble with his car" or "I saw a woman who loved champagne, so much". Then there is the priest literally driven to tears by his loss of faith. He haunts his church congregation, then he appears at the doctor's surgery – not once, but twice – before he is asked to leave. It seems even the medical profession has lost its compassion according to Andersson's sorrowful gaze (clearly this was before Covid19).
Some of these episodes are deeply moving, but most of all they leave us with ample time for quiet reflection on our own lives. Have we lost compassion for our fellow man? Have we lost our way? Andersson's films are as prescient now as ever they were, even more so as we contemplate life through the pain of man in the dentist chair, or the desperation of the tearful vicar – and we yearn to be those lovers in their romantic heaven. MT
IN CINEMAS AND EXCLUSIVELY ON CURZON HOME CINEMA – 7 NOVEMBER 2020 | BEST DIRECTOR VENICE 2020