Director: Asghar Farhadi
Cast: Golshifteh Farahani, Shahab Hosseini, Taraney Alidoosti
118mins    Drama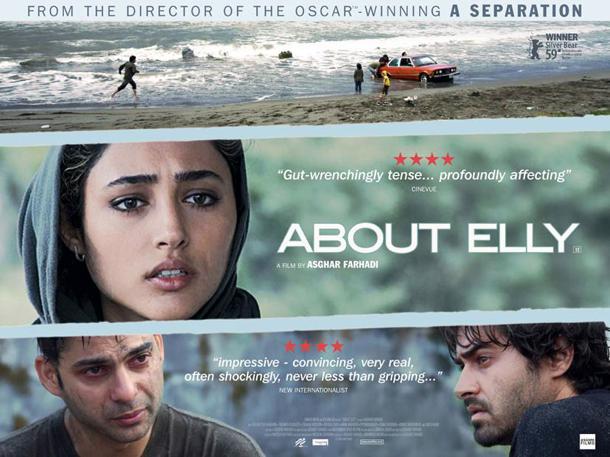 Only last year, Iranian director Asghar Farhadi's fifth feature, A Separation, won massive critical praise and wowed audiences all over the World with its complex moral tale from contemporary Iran . This year About Elly (2009) has finally been granted a UK cinema release.
It's not quite as mind-blowing as A Separation but nevertheless offers up another moving and multi-layered tale of social mores and societal duty that's open to discussion and debate while remaining an unremittingly bleak and deeply effecting human drama.  With some really powerful performances especially from leads Golshifteh Farahani and Shahab Hosseini, there are some early moments of fun that soon dissolve into pure hysteria but the general mood is of unleavened gloom.
In About Elly, what starts out as an light-hearted invitation soon leads to tragedy for all concerned during a weekend celebration for a group of ex-university friends on the shores of the Caspian Sea.  The men are all kitted out in sports gear, the women all carefully covered up: this is current-day middle class Tehran.  One of them Ahmad (Shahab Hosseini), has recently split from his German wife so the organiser of the trip, Sepideh (Golshifteh Farahani ), decides to invite her kid's teacher Elly, in the hope that Ahmad might finally settle down with a nice Iranian girl in a relaxed setting of friends.  It's inspired matchmaking on her part but the seemingly innocuous idea soon turns out to be a really bad one.  At first Elly seems reluctant to come along but gradually she warms to the weekend celebration until an unexpected turn of events leads to her mysterious disappearance. At this point Sepideh realises how little she really knows about her friend Elly.
Meredith Taylor ©