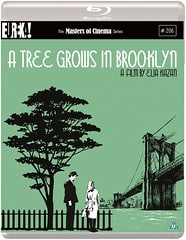 Dir: Elia Kazan | Drama | US
Elia Kazan's first film, A Tree Grows in Brooklyn shows that the filmmaker's great empathy for his characters was already quite evident at this early juncture, and this endures as one of the most moving Hollywood dramas of the 1940s. Based on Betty Smith's novel – a bestseller in the U.S. but also one of the most popular books among American soldiers overseas in WWII – Kazan's debut is a sensitive, masterful adaptation.
Set among Brooklyn tenements circa 1912, A Tree Grows in Brooklyn is a portrait of the Nolans, an Irish-American family living in financially challenging circumstances, often made worse by father Johnny's drinking and employment problems. But matriarch Katie keeps the family together, caring for son Neeley and daughter Francie, as well as Katie's outspoken, oft-married sister Sissy. But just as Francie's gift for writing opens up new avenues, more tragic developments test the family's resolve.
Winning Academy Awards for actors James Dunn (as Johnny) and Peggy Ann Garner (as Francie), and featuring splendid work by Dorothy McGuire and Joan Blondell, A Tree Grows in Brooklyn is a heartfelt testament to the strength of family, and offers an early indication of Kazan's unrivalled proficiency with actors. COURTESY OF EUREKA
ON RELEASE from 22 July 2019  https://amzn.to/2VM4GdJ Eureka Store  https://eurekavideo.co.uk/movie/a-tree-grows-in-brooklyn/