Despite the ostentatious wealth of Moscow's elite, two films at the London Film Festival show us that modern life for ordinary Russians is still hard-going and hasn't change much since the times of Dostoevsky. Boris Khlebnikov's A LONG AND HAPPY LIFE is actually wishful thinking.  Shot in a cinema verite-style on a hand-held camera by Pavel Kostomarov this  low-budget indie drama is the tragic tale of a struggling middle class employer.
Alexander Yatsenko plays Alex Sergeevich, or Sasha, to his friends (and he hasn't got many), a decent employer who has given up his city life to embrace the great outdoors and running a rural farm by a fast-flowing river in northern Russia. When faced with a compulsory purchase order from the local council  he eventually decides to take the money and run but when his poor farm workers beg him to support of their liveliehoods and keep the farm, he has a change of heart and with their support, he prepares to stand up to the authorities.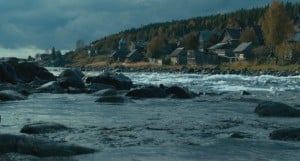 His on/off girlfriend Anya (Anna Kotova) has ideas to lure him back to the city, where she works in local government but he feels a strong responsibility to his workers who appear to need him more until they start to show their true colours.
As typical Russian films go, A LONG AND HAPPY LIFE, is short and brutal but nevertheless wrought with human confrontation and emotional pain.  The change that takes place in Sasha's stance towards his business venture, seen as a tonal shift to sudden melodrama, does feel somewhat unbelievable though given his profile as a businessman. Worthwhile but unconvincing. MT
A LONG AND HAPPY LIFE IS SHOWING AT THE LONDON FILM FESTIVAL ON FRIDAY 18TH AND SUNDAY 20TH OCTOBER AT NFT1 AND CINE LUMIERE, RESPECTIVELY