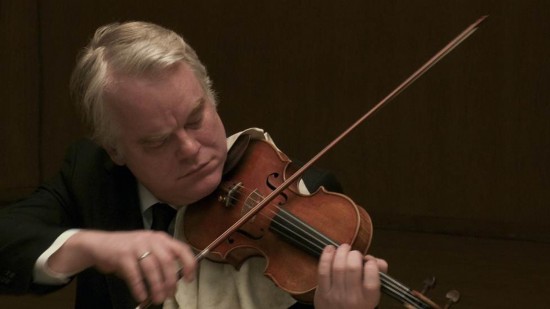 Director: Yaron Zilberman
Script: Yaron Zilmberman/Seth Grossman
Cast: Christopher Walken, Philip Seymour Hoffman, Catherine Keener, Imogen Poots, Mark Ivanir, Wallace Shawn
104min  ****  US  Drama
A Late Quartet is not the first feature in recent times to focus on the trials and tribulations of a four-piece musical act, following Dustin Hoffman's comedy Quartet earlier this year; yet we now return in somewhat more sophisticated circumstances (and with a relatively younger cast), in Yaron Zilberman's directorial debut, assembling a stellar cast in this quaint and affecting drama of an accomplished, once prospering string quartet.
Although Peter (Christopher Walken), Daniel (Mark Ivanir) and married couple Juliette (Catherine Keener) and Robert (Philip Seymour Hoffman) are supposedly celebrating their 25th successful year together, ahead of their forthcoming season they are shaken by the news that Peter – the all-important cellist, and natural leader of the pack, has been diagnosed with Parkinson's disease. Expecting his peers to strengthen and unify at hearing such a disconcerting announcement, instead Peter witnesses his colleagues comprehensively entering into self-destruct mode, as they use this news as a catalyst for their suppressed emotions. Not only do Juliette and Robert find their marriage is disintegrating, but their daughter Alexandra (Imogen Poots) becomes embroiled in the quartet's issues: a quartet that is on the brink of being torn apart once and for all.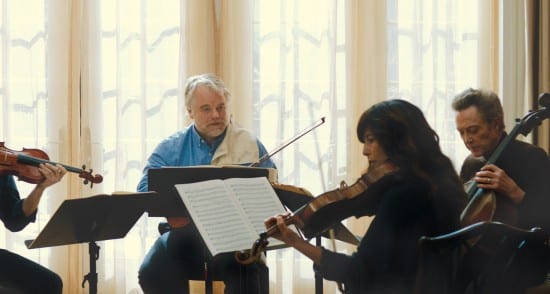 A Late Quartet is a delicately-crafted piece, and one that takes a wry and astute look into the lives of four friends, seemingly bound together by an infallible bond and love of music, yet now finding themselves on the verge of indefinite termination.  Zilberman manages to portray a poignant, affecting theme of one man suffering from a potentially fatal illness, and although exploring the themes of death and despair in a wistful manner, he intelligently adds an intense melodrama to proceedings, as we watch how this heartbreaking news can be the instigator for this sudden display of conflicting emotions.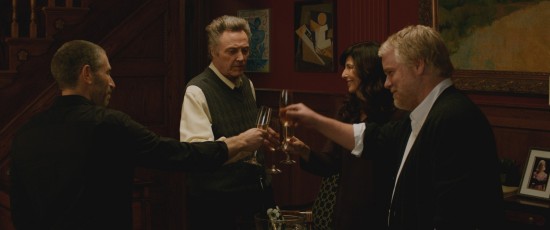 Such melodrama works wonderfully against the contemplative ambiance, enhanced greatly by the plethora of classical numbers, bringing a strength and energy to an otherwise measured piece, as Zilberman unapologetically displays his own inherent passion for music. The symmetry and elegance of the film perfectly reflects the movements and moods of Beethoven's Opus 131, a clear inspiration to this production.
Effectively this is a character study and we are therefore reliant on the performances of the leading cast members, and they do not disappoint in the slightest. Seymour Hoffman stands out, bringing a humility to the role but also an intensity, as you never quite feel fully at ease with his character, consistently reminded of his flaws and uncompromising nature. Meanwhile Walken is also terrific, and although not sharing quite as much screen time as his colleagues, he brings an empathetic vulnerability to the part, complete with a sadness behind his eyes reminiscent of the late John Cazale.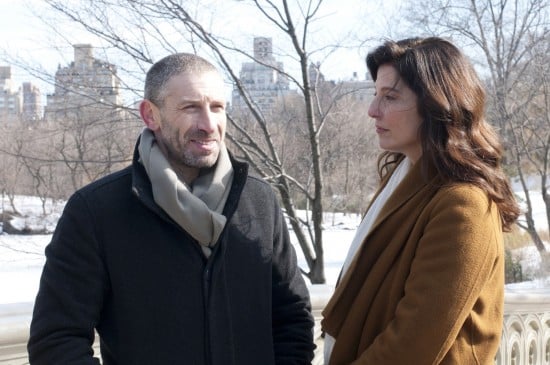 A Late Quartet is perhaps guilty of verging towards quite conventional, soap-opera like themes at times, but given it's dressed up in such refined surroundings it works effectively. Although the characters may be struggling to come together and produce a beautiful piece of music, it's fair to say that for everyone involved in this production, they've managed quite the opposite, joining forces to create an intelligent and provocative piece of cinema. SP
A LATE QUARTET RELEASES ON 5TH APRIL 2013 ACROSS THE UK