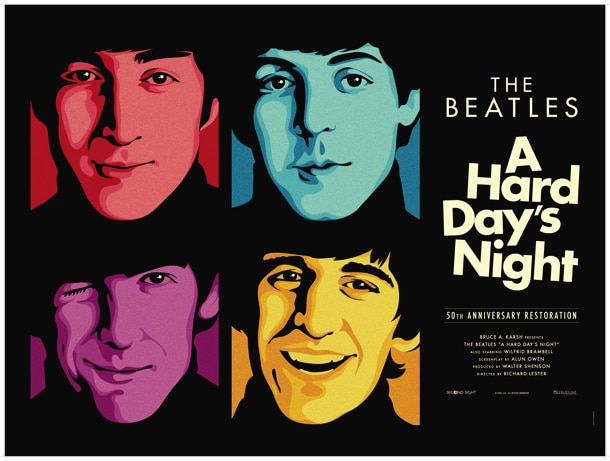 Dir: Richard Lester | UK Biopic Drama, 90′
Indisputably the biggest and best band of the sixties, the Beatles ushered in an era of change in a Britain still emerging from Post War austerity and tradition. Their groundbreaking talent came to the big screen in A Hard Day's Night, in which four fresh-faced lads from Liverpool changed the face of music forever and created the phenomenon that was Beatlemania. Richard Lester's exhilarating biopic features all the best tunes including the title track, "Can't Buy Me Love," paving the way for the era of music videos.  A Hard Day's Night follows the Beatles, John, Paul, Ringo and George, through a typical day as they're mobbed by fans on the way to London (by train) with their manager Norm (Norman Rossington) accompanied by tracks such "And I Love Her" and "If I Fell".
The DVD contains the following: New 4K digital film restoration, approved by director Richard Lester, with two audio options—a monaural soundtrack and a new 5.1 surround soundtrack
– A new piece combining 1964 Interviews with the band members and behind the scenes photos and footage.
– You Can't Do That – a documentary by produced Walter Shenson including an outtake performance by The Beatles
– Things they Said Today – a documentary about the film featuring director Richard Lester, music producer George Martin, and cinematography Gilbert Taylor
NOW ON MUBI | ALSO ON DVD