The 69th Cannes Film Festival presents its most ambitious and diverse selection yet with a Jury presided by Australian Director George Miller (Mad Max); Arnaud DESPLECHIN (Director, Writer – France); Kirsten DUNST; Valeria GOLINO; Mads MIKKELSEN; László NEMES (Director); Vanessa PARADIS; Katayoon SHAHABI (Producer – Iran); Donald SUTHERLAND (Actor – Canada).
Woody Allen's glitzy festival opener CAFE SOCIETY, starring Kristen Stewart, hits the Croisette on May 11 for a ten day competition line-up with other Hollywood regulars such as Steven Spielberg with his screen version of Roald Dahl's The BFG (out of competion), Sean Penn with THE LAST FACE starring Charlize Theron and George Clooney in Jodie Foster's financial thriller MONEY MONSTER.
The American auteurs will also be there to celebrate: Jim Jarmusch with a double bill of GIMME DANGER, an in-depth music biopic with Iggy Pop and PATERSON starring an eclectic pairing of Golshifteh Farahani and Adam Driver and Jeff Nichols with his interracial drama LOVING, based on a polemical legal case that rocked America in the '50s.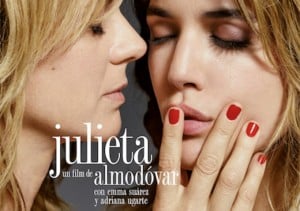 Palme D'Or Veterans, Ken Loach, who celebrates his 80th birthday this year, will be back to cut through the glamour of the Croisette with some stark British social realism in I, DANIEL BLAKE and the Dardennes Brothers with THE UNKNOWN GIRL about a patient who refuses live-saving surgery and the doctor who sets out to investigate why.
Almodóvar's JULIETA (right) has already opened in Spain to mixed reviews. His most ambitious film to date travels round Spain to tell a tale Hickcockian tale of motherhood and loss adapted from three interrelated short stories by Canadian author Alice Munro from her collection Runaway.
This year Britain has not one but two films in competition: Andrea Arnold (Fish Tank) brings AMERICAN HONEY, that follows a group of teenage workers across America starring Shia LaBoeuf and newcomer Sasha Lane.
In 2014 Xavier Dolan transfixed male audiences with his award-winning saga of sons and mothers: Mommy. Never to be left out of the fun, the 27-year old Canadian maverick is back with two of France's most happening stars Marion Cotillard and Lea Seydoux in a film that sounds as exciting as his track record: IT'S ONLY THE END OF THE WORLD.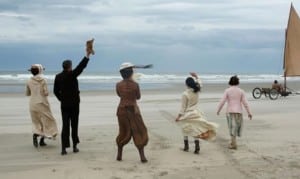 France is the best represented country but their well-known directors are inventively exploring different genres this year: Bruno Dumont brings an old-fashioned Normandy-set seaside comedy starring Juliette Binoche and Fabrice Luchini MA LOUTE, (left) in contrast to his usual menacing dramas. Alain Guiraudie, who shocked and delighted with his gay thriller The Stranger by the Lake, this year brings a more mainstream drama RESTER VERTICAL. After Cannes 2014 success with Clouds of Sils Maria, Kristen Stewart also leads in arthouse filmmaker Olivier Assayas' PERSONAL SHOPPER: a ghost story set in Paris – offering her two goes on the Red Carpet. Marion Cotillard also stars in Nicole Garcia's literary screen adaptation MAL DE PIERRES, which has echoes of the classic Madame Bovary and follows a wilful married woman who falls for another man. Let's see if she can add a twist of magic to this regular plotline.
Paul Verhoeven is a director best known for Basic Instinct and Showgirls. His latest drama ELLE stars the doyenne of Cannes Isabelle Huppert in a drama whose plotline sounds not dissimilar to Catherine Breillat's 2013 film Abuse of Weakness but her co-star here is Christophe Lambert of Highlander fame.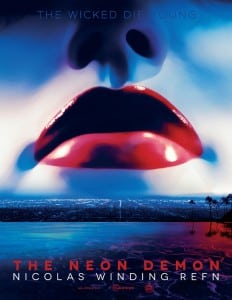 Danish director Nicolas Winding Refn last dipped his toe in the Riviera rave-up with the spectacular Only God Forgives in 2013. The fabulous thriller starred Kristen Scott Thomas in a standout role but the film had a mixed reception. He's back with THE NEON DEMON about a model who arrives in LA and discovers vampire and cannibals at play in the city's fashion world.
The Romanians will there in force with Cristi Puiu's family saga SIERANAVADA and Palme D'Or winner Cristian Mungiu brings another family-themed drama entitled BACALAUREAT. Germany is also back after a long break on the Croisette, this year in competition with Maren Ade's intriguingly entitled TONI ERDMANN, that concerns a troubled father and daughter reunion.
Korean auteur Park Chan-Wook has reimagined Sarah Waters' popular Victorian novel Fingersmith into modern day Korea in HANDMAIDEN. 
Philippino filmmaker Brillante Mendoza once rocked the Croisette with his thriller Kinatay which never got a release in Britain, possibly due to its shocking violence. Last year he was awarded Special Mention by the Ecumenical Jury for his sensitive portrayal of Philippino suffering for his feature Taklub. This year he's back with with MA' ROSA a drama in Tagalog. At last but not least, Brazilian director Kleber Mendonca Filho, best known for his drama Neighbouring Sounds, brings another drama about flat life to Cannes: AQUARIUS is the story of critic and last remaining resident of an Art Deco building acquired by the developers. Determined not to leave until her death, sounds like this is going to be an intriguing and tense study about who we are and where we belong in time. MT
THE 69TH CANNES INTERNATIONAL FILM FESTIVAL RUNS FROM 11 – 22 MAY 2016