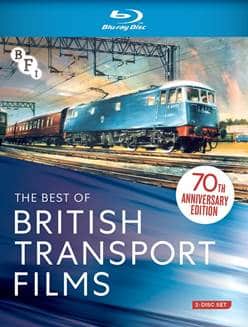 What could be more romantic than a train journey? Even if it feels more like a boys own adventure, as many of these British Transport films do. Escaping into the unknown with a promise of excitement and discovery – or just a trip back in time to revisit childhood holidays in the 1960s and 1970s, where the English landscape stretched far and wide from the window of the pullman out of Waterloo, or even Paddington, and not an anorak in sight! 
This year celebrates the 70th anniversary of the British Transport Films with twenty one films representing the cream of the celebrated BTF collection.
Classics including John Schlesinger's Terminus (1961)and Railways forever! (1970) John Betjeman's eulogy to his favourite form of transport, have been newly digitally remastered on 2k, while Geoffrey Jones's legendary homage to progress, Rail (1967), has been restored in 4K by the BFI National Archive.
British Transport Films was established in 1949 to focus a spotlight on transport as a nationalised undertaking. Over a period of more than 35 years, BTF produced an unrivalled documentary film legacy for generations of film and transport enthusiasts.
The Films (disc 1)
Farmer Moving South (1952)
Train Time (1952)
This is York  (1953)
Elizabethan Express (1954)
Snowdrift at Bleath Gill (1955)
Any Man's Kingdom (1956)
Fully Fitted Freight (1957)
Every Valley (1957)
A Future on the Rail (1957)
Between the Tides (1958)
Disc 2
A Letter for Wales (1960)
They Take the High Road (1960)
Blue Pullman (1960)
Terminus (1961)
The Third Sam (1962)
Rail (1967)
Railways For Ever! (1970)
The Scene from Melbury House (1972)
Wires Over the Border (1974)
Locomotion (1975)
Overture: One-Two-Five (1978)
This collection will be launched with a special screening at BFI Southbank. Moving Millions: British Transport Films Blu-ray Launch + Q&A takes place on Tuesday 14 May at 18:00 in NFT1. It will be introduced by BFI Curator of Non-Fiction, Steve Foxon and followed by a Q&A with special guests. This event is also part of the Department for Transport's Centenary.
https://whatson.bfi.org.uk/Online/movingmillionsbritishtransportplusqanda