Director/Writer: Nawapol Thamrongrattanarit
Main Actors: Vajrasthira Koramit, Wanlop Rungkamjad
Length: 68mins   Thailand   Thai with English subtitles    Drama
36 is an exquisite examination into memory and loss in the digital age. A startling debut from Thailand's Nawapol Thamrongrattanarit, the film takes its name from the number of frames found on a roll of 35mm film – and just like those remnants of our analogue past, 36 is divided into 36 frames, each one heralded by a poetic title and played in a single shot. If that sounds pretentious, it isn't. Thamrongrattanarit's film is genuinely thoughtful, managing to be both meaningful and meditative without become oblique.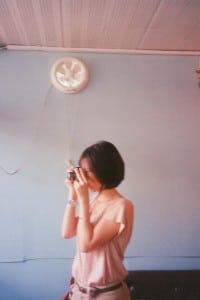 A rumination tinged with melancholy, 36 begins with a location scout, Sai (Vajrasthira Koramit), taking photographs while on a recce. With her is an art director, Oom (Wanlop Rungkamjad), and as the two discuss the practicalities of filming within the location, we witness a bourgeoning friendship forming before our eyes. But then, after just 11 'frames', the credits roll, and 'frame' 12 starts the story afresh: time has moved on, and so has Oom. And then Sai's external hard drive goes down, taking a year's worth of her location photographs with it. For Sai, "it's like a whole year has died".
As Sai begins the journey of attempting to recover the drive's data, and with it her memories of Oom, the film becomes pervaded by a sense of loss and impermanence. Later, Sai talks to a director as he fingers a printed photograph, explaining that he wants to shoot in the pictured location because it has "a past" – but the building no longer exists and the photograph is all that remains. So photographs are not only memories, but histories too.
In an age when tourists and rock concert spectators seem more concerned with taking photographs than enjoying the moment, it seems the spectre of Baudrillard's simulacra is never far away – and, 36 seems to suggest, we may be missing out on living life by living through unreliable technology. In other words, in the digital age, history is slipping away. One can only hope that the same fate doesn't await this beautiful, haunting debut: as a film about photography, 36 is also a film about looking – so see it as soon as you can. Alex Barratt.
THE THAI INDIE FEST RUNS FROM 6 June to 6 July at Rich Mix and other London venues