Julien Duvivier (1896-1967) was a prominent French film director largely active between 1930-1960 and best known for his early silent films and thrillers such as Pépé Le Moko, La Bandera, Life dances on, and Marianne de ma Jeunesse. He began life as an actor but after a disaster on stage, he moved on to write and direct, later relating the incident in his 1939 film La fin du Jour, with Michel Simon playing his character.
After working for Andre Antoine at Gaumont, Duvivier directed his first film in 1919. His early work was often religious in nature: La Tragédie de Lourdes, and La Vie Miraculeuse de Thérèse Martin which explored the Carmelite saint Thérèse de Liseux. Gaining experience with seminal French directors Marcel l'Herbier and Louis Feuillade, his first successful drama David Golder (1931) was a rags to riches story of an ambitious Polish Jew who falls foul of his wife. In 1934 Duvivier began a collaboration with Jean Gabin that would see them working together in The Imposter (1944), Pépé Le Moko, and La Belle Equipe (They Were Five). Like his countryman Jacques Tourneur, Duvivier moved to Hollywood and enjoyed the experience working with Charles Boyer, Edward G Robinson, Henry Fonda and Tyrone Power. But like Tourneur he eventually went back to France where he often cast Fernandel, Alain Delon, George Sanders and Michel Simon in his dramas.
Revered by legends such as Ingmar Bergman and Jean Renoir, Duvivier is still one of the greatest figures in the history of French cinema and possibly the most neglected, due to the uneven yet thematically varied nature of his work. Critic Michael Atkinson sees the poetic realist pioneer as "a victim of auteurism, ignored for generations by critics who saw…his output as the work of an able journeyman without signature or invention," Duvivier, Atkinson argues compellingly, "rarely let a dull or unevocative shot pass through his camera," and his films "fairly leap and swoon with visual cogency, surprising compositional drama, and a quintessentially French embrace of narrative life, equal parts funeral and fete." Despite all this, his best films are stellar and treasured by cinefiles all over the world. He died in a car crash in 1967.
Julien Duvivier taps into post-war France's paranoia in PANIQUE (1944), a long unavailable thriller, adapted from a Georges Simenon novel. Proud, eccentric and anti-social, Monsieur Hire (Michel Simon) has always kept to himself. But after the body of a woman turns up in the Paris suburb where he lives, he feels drawn to a pretty young newcomer to town (Viviane Romance), discovers his neighbours are only too ready to be suspicious of him, and is framed for the murder. Duvivier's first outing after his return to France from Hollywood, sees the acclaimed poetic realist applying his consummate craft to darker, moodier ends. Led by two deeply nuanced performances, the tensely noirish Panique exposes the dangers of the knives-out mob mentality, delivering a pointed allegory of the behaviour of Duvivier's countrymen during the war.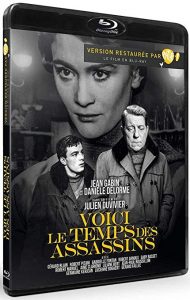 But Julien Duvivier's 1956 thriller DEADLIER THAN THE MALE  (Voici les temps des Assassins) somehow manages to outdo them all when it comes to violent women in film Noir: Catherine (Delorme) is the daughter of the drug depending Gabrielle (Bogaert), and tries to escape from the milieu by marrying the restaurant owner Andre Chatelin (Gabin), who has divorced her mother. Telling him that Gabrielle is dead, the scheming Catherine succeeds in marrying the much older man, who soon learns that his wife is lying about her mother. He more or less imprisons her with her mother Antoinette (Bert), also a restaurant owner, who kills her chicken with a whip – which she also uses on Catherine. The frightened woman asks Andre's friend, the student Gerard (Blain), to kill her husband, but when he refuses, she kills him. Her end – by the fangs of a particular vicious animal – is particularly gruesome. Again, the images of Armand Thirad are undeserving of this blatant ideology.
ON BLURAY AT AMAZON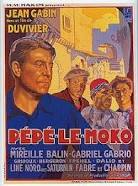 The notorious Pépé LE MOKO (Jean Gabin, in a truly iconic performance) plunges into the gangster underworld as a wanted man: women long for him, rivals hope to destroy him, and the law is breathing down his neck at every turn. On the lam in the labyrinthine Casbah of Algiers, Pépé is safe from the clutches of the police–until a Parisian playgirl compels him to risk his life and leave its confines once and for all. One of the most influential films of the 20th century and a landmark of French poetic realism, Julien Duvivier's Pépé le moko is presented here in its full-length version. AVAILABLE FROM CRITERION COLLECTION | Amazon Prime