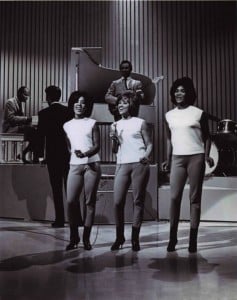 Director: Morgan Neville
91min  US  Documentary 
Having defied the odds and beaten the clear favourite The Act of Killing to the Best Documentary accolade at this year's Academy Awards, it's clear to see why Morgan Neville's 20 Feet From Stardom was triumphant, as a compelling, heartwarming and unaffected exploration into the fascinating world of backing singers.
From the contentiously salacious vocals on Ray Charles What'd I Say, to the graceful arrangement of Lean on Me by Bill Withers, backing vocals are an integral part to our enjoyment of music across the decades. Having spent years in the shadows of some of the finest, most prominent recording artists of all time, now the likes of Merry Clayton, Lisa Fischer and Darlene Love are given the platform to shine, and showcase their unique, and somewhat breathtaking abilities.
There is something so unmistakeably emotional about this production, as we candidly delve into a world behind the scenes, where broken dreams and empty promises remain a prevalent theme. Nostalgia is equally as important to this picture, and scenes such as Clayton returning to the recording studio where she provided vocals on The Rolling Stone's Gimme Shelter is enough to bring a tear to your eye. Neville masterfully intertwines personal anecdotes from the likes of Clayton herself to Mick Jagger, as we learn of how she came to be involved – dragged out of bed in the middle of the night, heavily pregnant, and with curlers still attached to her hair. An intimacy of sorts, and a human element is brought to these songs, as we are taken behind the track and explore the mechanics of how it came to be, and the personalities involved.
Jagger is one of many fine talking head appearances, with Stevie Wonder and Bruce Springsteen also featuring, amongst others, to pay homage to the hard work and incredible talent of these gifted musicians. Neville seamlessly drifts between the various different singers, succinctly and efficiently, as we're given a flavour for each of their personalities and their own unique situations, ranging from those who rose to prominence in the 60s, to current singers such as Judith Hill. This works as a catalyst for a series of other themes to be explored, as race and inequality are covered, dressed up in a rich socio-political context, while the more intimate, human themes such as the lust for fame are equally imperative.
That said, Neville can be accused of merely brushing the edges of a few issues, not truly offering enough depth – however it's a small blemish on an otherwise accomplished piece of filmmaking. It's just intriguing to see the faces behind the voices we've heard a million times over, voices that define and complete some of the most renowned records ever created. You'll forever listen to these songs in a different way from hereon, and believe me, that's by no means a bad thing. Stefan Pape.
[youtube id="QwlV7DQBZeU" width="600″ height="350″]
ON GENERAL RELEASE FROM 28 MARCH 2014