Although Bela Tarr is perhaps the most widely known Hungarian film director, arguably the greatest Hungarian filmmakers of all time are Marta Meszaros (Diary for my Children) and Miklos Jancso (My Way Home), who died in 2014. Married between 1958 and 1968, they had three children: one of them, director of photography Nyika Jancso (Jancso's son from a former marriage), who worked regularly for both directors, and the couple's granddaughter Anna Jansco, a producer, introduced these two films at a recent screening laid on in London by the Hungarian Cultural Forum.
It was interesting to hear that both Meszaros (*1931) and Jansco (1921-2014), had started out as Newsreel directors, followed by many years as documentary filmmakers before they embarked on features. Meszaros had a particularly hard time getting into film school, and women directors were more or less unheard of in 1950s Hungary. The fact that she had her youth in the USSR worked to her favour, and she was given a place at the prestigious VGIK film academy in Moscow. Diary for my Children (the first part of the trilogy Diary for my Lovers and Diary for my Father and Mother) was finished in 1984, but languished on the back shelf as its harsh critique of Stalinism was deemed not suitable for Hungarian audiences. Luckily, it was screened for the selection committee of the Cannes Festival, were it was shown in competition, winning the Grand Prix (and runner-up to Wenders' Paris, Texas) in 1984. Meszaros, who had already won the Golden Bear in Berlin 1975 for Adoption, was now, together with her ex-husband Jansco, the new face of Hungarian cinema.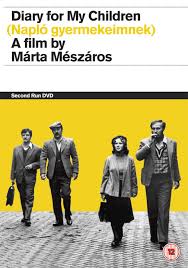 DIARY FOR MY CHILDREN (NAPLO GYERMEKEIMNEK) | Dir.: Marta Meszaros; Cast: Zsuzsa Czinkoczi, Anna Polony, Jan Nowicki, Pal Zolnay; Hungary 1984, 106 min.
With its strong autobiographical undertones Diary for my Children opens with a homecoming: young Juli (Czinkoczi), her 'aunt' Magda (Polony) and 'grandfather' Nagypapa (Zolnay) land in 1947 Budapest on their return from exile in the USSR. But Juli's real parents are dead: her father (Nowicki), a well-known sculptor, has vanished in one of Stalin's purges, her mother has also perished. Somehow Nagypapa and Magda, who is a very committed Stalinist, bought their survival with an oath of silence, but Juli holds Magda responsible for her father's death. Magda's friend Janos, also played by Nowicki, has chosen to work in factory, instead of for the Party, a mistake that will cost him dearly. Meanwhile, Juli steals Magda's cinema pass, and spends her days in the cinema, instead of at school. Janos is finally arrested for not toeing the Party line, and Juli moves out of Magda's opulent apartment, to look after Janos wheelchair-bound son, working in a factory. Originally, Meszaros had planned to end with a scene from Mikheil Chiaureli's 1950 propaganda film The Fall of Berlin, (showing Stalin, played by regular 'Generalissimo' actor Mikheil Gelivani, as a God-like figure in his white uniform) – but the feature had since been banned, and the authorities did not wanted to be reminded of the situation. Diary is shot in impressive grainy black-and-white by Nyika Jansco, who remembers to this day how nervous he was about doing his best.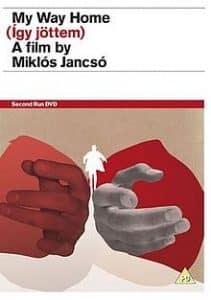 MY WAY HOME | Dir.: Miklos Jansco; Cast: Sergei Nikomenko, Andras Kozak; Hungary 1964, 108 min.
Miklos Jansco's work is usually very symbolic and inaccessible, often getting him into trouble with the censors for the dreaded 'Formalism'. My Way Home, his third as a director, is one of the most personal features.  Set during the last days of WWII near the Hungarian border, it tells the story of the teenage Hungarian soldier Joska (Kozak) who is captured first by the fleeing Nazis, then the advancing Russians. Whilst serving the Russians as an agricultural worker, he befriends the Soviet soldier Kolja (Nikonenko), who is dying slowly and painfully from a stomach wound. They herd the cows together, but when Kolja starts bleeding internally, Joska is unable to get to a doctor in time due to his being mistaken for a German national. Shot in the black-and-white with a austerity that echoes the work  of Bresson, My Way Home is a reflection on humanity's capacity for violence as well as forgiving. AS