The 10th London Spanish film festival kicks off on 25 September with a varied programme of events in the Cine Lumiere and Instituto Cervantes. Here is a selection of films we recommend:
Dir: Luis Minarro, with Lorenzo Balducci, Alex Batllori, Alex Brendemuhl, Gonzalo Cunil, Lola Duenas | 105 min | Spanish with Subt
STELLA CADENTE is as timely as it is flippant. Though historical periods are seldom fully analogous, Spain once again finds itself in political and economic disorder, and Miñarro's film had its first of two public screenings at Edinburgh just days after the ascension to the Spanish throne by Felipe Carlos, following father Juan's recent abdication. Even at an unjustifiably lengthy 110 minutes, though, STELLA CADENTE eschews the greater intricacies of its historical backdrop. For the most part, it's instead an unfussily light-hearted affair, featuring musical interludes, tripod-fixed longueurs, matter-of-fact homoerotic desire and the incongruous minutiae of a rococo social class that doesn't know what to do with itself.
Wed 1 Oct | 8.30pm | £10 |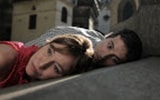 10.000 NOCHES EN NINGUNA PARTE | 10,000 Nights Nowhere
Dir. Ramón Salazar, with Andrés Gertrúdix, Susi Sánchez, Lola Dueñas, Najwa Nimri | Spain | 2014 | col | 113 min | cert. 16 | In Spanish with English subtitles
In this high voltage, emotional roller-coaster, a young man tries to escape his deepest fears (and his mother) by making a journey to Paris and Berlin.. Beautifully shot, Salazar's film experiments with narrative, cinematography, improvisation and script. Indeed, he does everything he can to create a unique experience. A wonderful, engaging film, free of any label.
Mon 29 Sep | 8.30pm | £10, conc. £8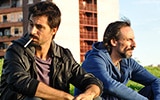 DIOSES Y PERROS | Dioses y perros
Dir. David Marqués and Rafa Montesinos, with Hugo Silva, Megan Montaner, Juan Codina and Elio González | Spain | 2014 | 84 min| In Spanish with English subtitles
Pasca works as a boxing sparrer in an effort to earn some money, having abandoned his promising boxing career when the car he was driving crashed and killed his parents and left his brother in a wheelchair. Daily life is a painful existence, finding small jobs, earning a bit of money, getting his old friends out of trouble, and taking care of his brother. Dioses y perros is a film about facing our fears, getting on in life, finding and accepting love… and, ultimately, about hope.
Followed by a Q&A with actor Hugo Silva and director David Marqués
Wed 1 Oct | 6.30pm | £10, conc. £8
THE FOOD GUIDE TO LOVE | Amor en su punto
Dir. Dominic Harari and Teresa Pelegri, with Richard Coyle, Leonor Watling, Ciara Bailey and Michelle Beamish | Spain/Ireland | 2013 | 91 min | In English
Richard Coyle plays Oliver Byrne, the ultimate foodie, and The Food Guide to Love, is his ultimate book about food. A connoisseur of fine dining, Oliver became a major success in Ireland thanks to his approach to food writing and his emphasis on the sensual aspect of food. His love life, however, is not as stable as his career, and he has serious problems maintaining relationships. That is, until he meets the Spanish Bibiana… A delicious romantic comedy about love, dreams and mistakes, with some spicy ingredients.
Followed by a Q&A with the directors and actress Leonor Watling
Fri 3 Oct | 8.30pm | £10, conc. £8
10TH LONDON SPANISH FILM FESTIVAL 2014 RUNS FROM 25 SEPTEMBER UNTIL 5 OCTOBER 2014